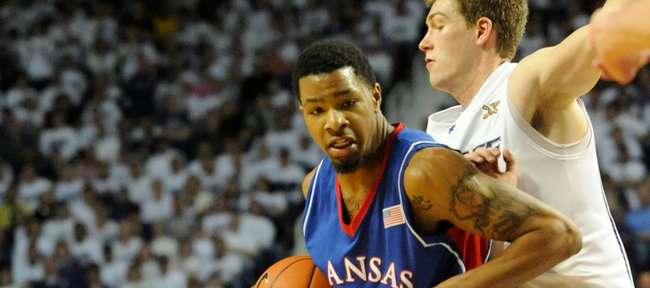 Manhattan — Cole Aldrich admits Kansas University's basketball team pulled off "a heck of a comeback" on Saturday afternoon at Bramlage Coliseum.
But one for the ages?
The sophomore center, whose 21 points helped 16th-ranked KU overcome a 16-point deficit in a thrilling 85-74 victory over Kansas State, wasn't so sure about that.
"April 7th — I don't know if you guys remember that game — that was a pretty big comeback," Aldrich said, recalling the day KU erased a nine-point deficit in the final 2:12 in a national-title victory over Memphis.
"That was a pretty big game," he added with a big smile. "This was great, though. It showed a lot of character for our team. It showed we're maturing."
The young Jayhawks, who squandered a 14-point lead in Monday's 62-60 loss at Missouri, on Saturday trailed KSU, 30-14, with 8:36 left in the first half.
A 24-8 run propelled the Jayhawks into a 38-38 tie with 1:34 left before halftime.
KU did trail, 43-42, at the break, but thanks in large part to Aldrich's 13 second-half points, stormed past the Wildcats for the rousing victory.
"We were laboring (early). Our guys hung tough. It's probably as good a road win that we've had since I've been at Kansas, considering the circumstances, how young we are and the environment," Bill Self said of the biggest come-from-behind win in his six seasons at KU.
It actually tied for KU's second biggest comeback in a victory since specialty records were kept starting in 1988-89.
KU overcame a 19-point deficit to down UCLA, 85-70, on Jan. 2, 1995. KU dug out of a 16-point hole to top Texas Tech, 86-77, on Jan. 29, 1997 in Lubbock.
Self called three timeouts in the first six minutes and turned to nonrotation players Quintrell Thomas and Tyrone Appleton in an attempt to slow the Wildcats (17-8, 6-5), who entered with a six-game winning streak.
"We were grasping," Self said of the Jayhawks (20-5, 9-1), who were victimized by the strong play of guards Denis Clemente and Jacob Pullen.
Clemente scored 26 and Pullen 22 points — and each hit four threes on a day KSU hit eight of 19 to KU's eight of 12.
"We didn't have anything going, and they were great. I told the guys, 'Hey, we can get it down to seven or eight by halftime if we focus.' It's amazing we were able to come from 16 down to one at halftime," Self added.
Brady Morningstar, who hit three threes the first half, and Marcus Morris, who contributed nine points in nine minutes, helped key the first-half rally.
"I don't know if we were shocked. We didn't get a hand in their face. They were hot and on a run. It happens sometimes," Morningstar said. "I was glad we were able to fight through it."
He played a key role in the second half as well.
Morningstar fouled Clemente with 13:12 left and KU up, 53-51.
An angry Clemente struck Morningstar with an elbow and was called for an intentional technical foul. Sherron Collins hit two free throws and Tyrel Reed swished a three on the ensuing in-bounds play. Colling followed with a three following a Pullen miss, and KU suddenly led, 61-51, at 11:59.
"He hit me in the back. It was no big deal, out of frustration probably," Morningstar said.
It was a big deal in the course of the game, Self said.
"Usually, on a technical the ball goes back to K-State, but because of the type of technical it was, it goes to the other team. It turned out to be a pretty big play for us," Self indicated.
Still, KSU cut the deficit to 67-65 with 5 1/2 minutes left.
That's when the Jayhawks decided to go to Aldrich.
Accepting high lobs from Collins, he scored seven straight points and kept KU in charge, 74-70, with 3:03 to play. Marcus Morris (15 points, seven rebounds) put back an Aldrich miss, giving KU a 78-72 lead at 1:59.
KSU didn't threaten again.
"It's great to see those guys throw the ball in. At Missouri, they struggled to throw it in a little bit," said Aldrich, who in wearing his new Richard Hamilton-like facemask hit eight of 13 shots and five of five free throws. "I was able to post hard. They threw it up and said, 'Hey, the big fella is gonna go get it. Go make a play.' It's great to see they have confidence in me and great for me to have confidence in them to throw it in."
KSU coach Frank Martin bemoaned the high entry passes to Aldrich.
"I've never seen post entries look like fair catches in football, and that's what those looked like," he said. "We allowed them to throw 45-foot post entries," he added, referring to Collins' beautiful, deep lob to Aldrich and resulting slam that gave KU a 53-49 lead.
Collins explained the strategy to go to sophomore Aldrich late.
"They were pressing out on our guards. Cole did a good job sealing. We just threw it up to him. He's 6-11. He was able to go get it and make a play," said Collins, who contributed 19 points with six assists against five turnovers.
Feeding Aldrich was big on the offensive end.
Self's triangle-and-two defense huge in helping to slow down (a bit) KSU standouts Clemente and Pullen, who scored 48 of KSU's 74 points.
"It bailed us out, gave us longer possessions, played into our favor since we were short of depth late in the game (because of foul trouble)," Self said.
An intangible helped as well: refusal to quit when falling behind by 16 early.
"We showed some courage," Self said. "We usually play in good environments. We've not played in any better than the two this week (at MU and KSU). It showed something from my team I thought."