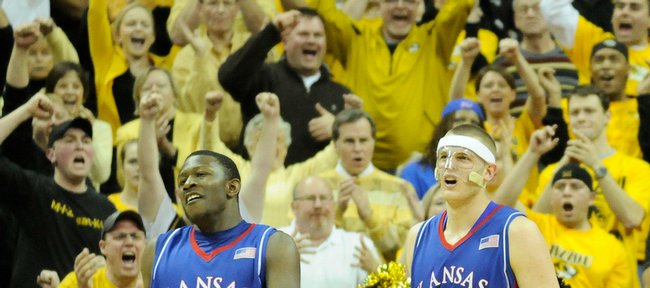 Columbia, Mo. — The memory of 1,000 or so gold-clad Missouri fans rushing the court to celebrate the Tigers' 62-60 victory over Kansas University will stick with Cole Aldrich a long, long time.
"Oh, it's tough. This is one of those games that will linger," Aldrich, KU's sophomore center, said Monday after the Jayhawks squandered a 14-point halftime lead, losing on a jumper in the lane by junior Zaire Taylor with 1.3 seconds left.
"If this doesn't hurt, I don't know what hurts. It really eats at me. No. 1, it's Missouri, and No. 2, we didn't fight. We didn't play the second half like we normally do. We didn't hold our composure."
Aldrich, who was pretty much ignored by his teammates the second half in putting up just three shots, finished with 15 rebounds, but just eight points. KU's other focal player, Sherron Collins, missed nine of 13 shots and had nine points on a night only Tyshawn Taylor (11 points) cracked double figures.
The Collins-Aldrich duo also combined for 10 turnovers on a night the Jayhawks committed 27 turnovers, 15 the second half.
It was a half won by Mizzou, 46 points to 30.
"We lacked concentration. We made sloppy passes," said Collins, who missed two free throws with 1:48 left and KU up, 58-56, trying to hang on for dear life. "We didn't play defense. No defense. There's nothing else I can say. The turnovers would have had no effect if we played defense."
He naturally was upset at KU's defense on the Tigers' last three possessions.
First, Leo Lyons cashed a pair of free throws at :58, tying the score at 58.Then after Collins was tied up in the lane, J.T. Tiller hit a jumper at :50, giving MU the lead.
Mario Little tied the score on a clutch baseline jumper at :29. However, on the final possession of the game, MU let the game clock run down before Taylor canned a jumper from about 10 feet.
KU's Aldrich actually was able to hoist a last-second shot, but it was off balance and had no chance of falling to force overtime.
KU's Tyrel Reed — he had eight points and five rebounds with no turnovers in 22 minutes — explained the mess-up on MU's winning bucket.
"We were in man-to-man and wanted to have strong help on Cole in case they drove on him. Zaire was my man, and I closed out on him way too hard," Reed said. "He shot-faked me and went around me. It's basically a scouting-report (mistake) on me. I should have known he's more a driver than shooter so I take that responsibility on that last play for him getting that shot off."
KU coach Bill Self wasn't pleased with his squad's defense late.
"Obviously, we didn't guard it well. They got a good look and got a good look the possession before on Tiller's shot," Self said. "We didn't defend those two possessions very well.
Self was unhappy to see this one slip away. KU fell to 19-5 overall and 8-1 in the league; MU improved to 21-4, 8-2.
"We had the game where we wanted it," Self said. "Obviously we didn't finish worth a flip."
"We did a pitiful job handling any type of pressure. We were not strong with the ball."
Points were tough to come by down the stretch. Travis Releford hit a driving layup and foul shot to give KU a 54-43 lead at 8:19. KU didn't score a two-pointer again until Little's jumper from the corner.
"I can handle getting beat," Self said. "We can learn from getting beat. We didn't expect to run the table or anything like that. When you put yourself in position to be up 14 at halftime, 11 under 10 minutes and seven under four (minutes), as a coach you feel you need to win those games.
"We missed some free throws late. It's disappointing because in large part we were trying to hang on as opposed to attacking."
Self said it was "probably good" the Jayhawks had some time before playing again — 2:30 p.m. Saturday at Kansas State.
"If we can't handle losing a game, we're not a tough-minded team," he said. "This one is different. It's a big rivalry, obviously one we had in our grasp and let slip away. It's probably good we have five days off."