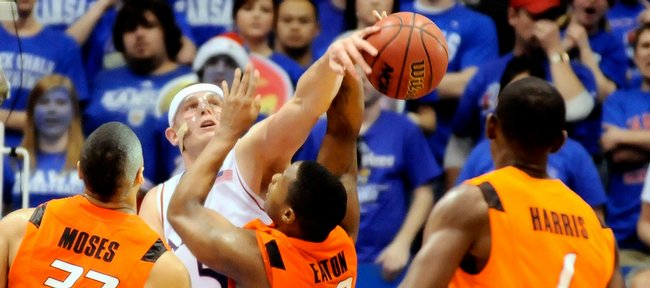 Audio clips
2009 KU-OSU Feb. 7
Reader poll
KU at Missouri

86%

681 votes

KU at Kansas State

13%

102 votes
783 total votes.
Kansas University center Cole Aldrich, who had a five-inch height advantage over Oklahoma State's tallest basketball starter, made it look easy in stretching for a career-high 18 rebounds on Saturday afternoon in Allen Fieldhouse.
"Oh, it's tough," Aldrich exclaimed after the Jayhawks' 78-67 victory over the Cowboys.
"It takes a lot out of you to get 18 rebounds. I think I had 18 up in Canada," Aldrich added, correctly recalling an 18-rebound outing against McGill University last Labor Day weekend.
"In high school, I averaged 171⁄2 rebounds a game. I probably had a few games with 23 or 24."
The 6-foot-11, 245-pounder's 18 rebounds were two more than his previous high of 16 set against Syracuse back on Nov. 25 at Sprint Center in Kansas City, Mo. They were most by a KU player since Wayne Simien's 20 versus Kansas State in March of 2005.
"This helps my confidence knowing I can play against a smaller lineup. I struggled against Nebraska," Aldrich said of his eight-point, eight-rebound outing in a 68-62 victory over the small, scrappy Huskers on Jan. 28 in Lincoln.
"I knew they (Cowboys) didn't quite have the size. I tried to grab every board to get our guards the ball so we could get easy baskets in transition."
Aldrich scored 12 points off 6-of-12 shooting on a day Mario Little scored 13 off the bench.
Aldrich also drew coach Bill Self's praise for his defense. Aldrich stepped up to help out on OSU senior point guard Byron Eaton, who scored eight points off 2-of-6 shooting (and 10 assists) after burning KU for 26 points in last year's 61-60 OSU victory in Stillwater.
"Cole's ball-screen defense was a lot better. He did a good job helping Sherron (Collins) contain Eaton on the ball," Self said. "It's how they beat us last year. I wish we could go back and guard them like that last year. He (Eaton) totally dominated that game (last year). He had a good game with 10 assists, but was not able to do much in the teeth of the game."
Eaton did not score in the first half as KU (19-4 overall, 8-0 Big 12) raced to a 37-24 halftime lead.
Obi Muonelo and Marshall Moses scored 14 and eight respectively as just three Cowboys scratched the stat scoring sheet in the first 20 minutes. KU, meanwhile, had seven players score early, with Little tallying seven the first half.
OSU (14-8, 3-5), which trailed by as many as 20 points (64-44 with 8:41 left), never sliced the lead under 10 during the second half.
"We got nonchalant at the end of the game. We got a little comfortable with our lead and let them kick it out for open threes," KU's Collins said, not happy OSU had trimmed the gap to 11 points with 41⁄2 minutes to play.
"We were a little lackadaisical at the end of the game," Aldrich noted. "Against Missouri, if we do that it'll be a tough night."
KU travels to rival Missouri for an 8 p.m. tipoff on Monday. The Tigers improved to 20-4 overall and an impressive 7-2 in the Big 12 following Saturday's 82-68 victory over Iowa State in Ames, Iowa.
"It wasn't that hard to not look ahead to Missouri," Aldrich said. "We knew Oklahoma State was going to be tough. They proved it last year when we were ranked third in the country. We played at their place, and they made us look silly. That really hit home for Sherron and me and the guys that were on the team last year.
"We've got so many young guys. They've not had that feeling of another team's fans storming the court. It's one of the worst feelings you can have as a player."
There's a good chance MU's fans will storm if the Tigers defeat the No. 21-ranked Jayhawks on Monday.
There's also a good chance unranked MU will be ranked by game time.
Self likely will be satisfied if KU's defenders can duplicate Saturday's effort in Columbia. KU outrebounded OSU, 46-33, and held the Cowboys to 35.4 percent shooting. OSU did sink 10 of 32 threes, but just four of 16 the pivotal first half.
"We did some good things. I hate how we finished the game, and that's the last taste in our mouths," Self said. "We were miserable the last four or five minutes. That should've been a 20-point game. They (Oklahoma State) were trying to foul at the end, but they (the officials) never called it, which I haven't seen very often. It was a win. I wish we would've finished the game better, but we were able to get through it, and now it sets the stage for a pretty big Big Monday."
A really big Big Monday.
"It will probably be as difficult a setting as we've played in all year, but we need that. I think our guys will be excited, but, certainly, we have to take care of the ball a little better. We had 17 turnovers, so naturally we have to be much better against Missouri," Self said.