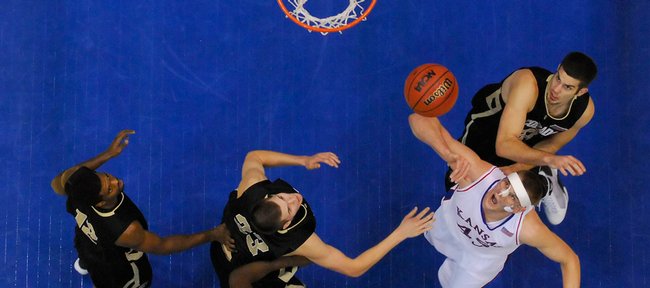 Audio clips
2009 KU-CU Jan. 31
Cole Aldrich looked into the stands, only to see his dad and three uncles wearing white tape on the bridge of their noses.
"That gave me a good laugh. I thought it was pretty funny," Aldrich, Kansas University's sophomore center with a broken schnoz, said, smiling.
Feeling the love, Aldrich — who also was amused by an oversized mugshot of himself sporting a facemask in the student section — scored 11 of KU's first 17 points in a scary 66-61 victory over Colorado on Saturday afternoon in Allen Fieldhouse.
"I've got to get on him a little bit. That's what dads do," Cole's papa, Walter, said, admitting the tape prank was his idea.
The jokes would have been even funnier had Aldrich and the Jayhawks expanded on leads of 17-7 and 46-25.
Instead, Cole — who had his nose broken Wednesday at Nebraska and was wearing a clear facemask with white straps for the first time in a game — and his teammates cooled off. They managed to hold on against the Buffs, who closed the gap to two points down the stretch.
"I was being really aggressive, and the guys got me the ball, and I was making easy baskets," Aldrich said of his early flurry.
"They (Buffs) clouded it up and made it hard to score inside the second half."
Aldrich — he finished with 15 points and 13 rebounds in 31 minutes — said the mask served him well. It came in handy when Travis Releford banged a pass off the shield late in the first half.
"The initial shock of getting hit ... I didn't think I'd get hit, and if I did it would not be bad. That was one of those, 'AAH! (moments)'," Aldrich exclaimed. "It did sting a bit, but you shake it off and get back in there.
"The mask felt fine," the 6-foot-11 pivot added. "There were little points of the mask where you can't quite see everything."
Aldrich said he'll continue to wear the mask until doctors say the nose can take another shot.
That's fine with Aldrich, who'll bring it to Baylor for Monday's 8 p.m. tipoff.
"We had different experiments with masks the last two days. This one was really good. I really liked it," Aldrich said. "I tried to watch the ball the whole time and figure where it was."
KU coach Bill Self saidthe mask didn't seem to bother Aldrich.
Self was thrilled with Aldrich's play in the first seven minutes.
"He was great early, fabulous, then we forgot who the best player in the game was for us," Self said. "That's frustrating. Cole should have gotten touches, if not every possession, every other possession the second half."
Instead, the second half was dominated by the Buffs (9-11, 1-5), who outscored the Jayhawks, 27-8, to slice a 46-25 deficit to 54-52 with 6:11 to play.
CU made 65.2 percent of its second-half shots, to KU's 33.3 percent.
"We were horrendous defensively, and they made shots," said Self, who said he couldn't remember a half in which the Jayhawks (17-4, 6-0) were as bad on the defensive end.
Tyrel Reed hit a clutch three to rebuild the lead to 57-52, and Sherron Collins, who had an off day with 11 points of 4-of-16 shooting, iced a three to up the lead back to 10 (62-52) at 3:38.
The Buffs whittled it back to 62-59 with 28.3 seconds left.
Collins charged through the lane and hit a floater with 23 seconds left — and one left on the shot clock. He also made two free throws at 4.8 seconds to answer a Buff bucket and ice the victory.
"Either Tyrel's shot or Sherron's were the biggest of the game," Self said. "I told him (Reed) he was going to make a three. Sure enough, he made me look like a prophet for a second. We had him in the game for a reason. For him against the zone to step up and make a play … and he did."
Of Collins' clutch play late, Self said: "For him to have an off day like that ... he makes a huge shot late, then gets fouled and makes free throws. He still contributed. Sherron in my opinion has to find a way to control the game without scoring. He had some opportunities to do that today. He became frustrated with his shot.
"We picked a bad time to play bad offensively collectively for 18 minutes," the coach assessed.
KU now travels to Baylor for a Big Monday battle. The Bears fell to 15-6, 3-4 following Saturday's 89-72 loss at Missouri.
"We'll be excited," Aldrich said. "We're happy to come out of it today with a win. A win is a win. We've got to win ugly games sometimes, too."
While wearing ugly facemasks sometimes, too.