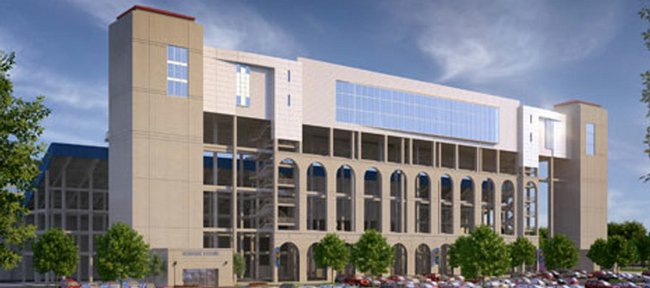 On the street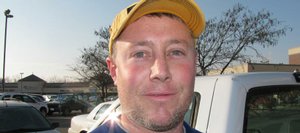 A project to build a new Gridiron Club at Kansas University's Memorial Stadium remains on track for opening in time for the Jayhawks' next football season.
Even if officials still need another $30 million to pay the bills.
"Our plan is full speed ahead," said Jim Marchiony, an associate athletics director.
Kansas Athletics Inc. so far has secured $4 million for the project, through sales of memberships for the 3,000-seat club slated to be built atop and alongside the east side of the stadium. The club is expected to have both indoor and outdoor seating, an expansive lounge and complimentary high-end food and drink for members who buy into the club for anywhere from five to 30 years.
But construction cannot and will not begin until Kansas Athletics has sold enough memberships — ranging in price from $30,000 per seat for five years to $105,000 per seat for 30 years — to raise at least $34 million, Marchiony said. That's the cost for the club itself, plus related changes to parking lots and other features.
"It's not a question of if it's going to be built," he said. "It's a matter of when."
He figures on construction taking anywhere from six months to a year, leaving officials with a shrinking timeline for getting the club moving toward completion in time for the season opener Sept. 4 against North Dakota State.
"As soon as we get the money we will begin construction — whether that's January or February or March or whenever — but at some point soon we're going to have to determine whether it will be ready for all of the 2010 season or some of 2010," Marchiony said. "We're not there yet. We haven't really picked a date that we will be there. Right now, we're just full speed ahead and planning on it being done for 2010."
The formal marketing of memberships started early during the 2009 football season, as Jayhawk football legends Gale Sayers and John Hadl joined Athletics Director Lew Perkins in urging fans to support the KU program.
At first, members had been required to pay the entire cost of memberships upfront. A few weeks later, officials sought to spark interest by allowing donors to pay using interest-free installments.
In recent weeks membership revenues have climbed from $3 million to $4 million, Marchiony said, and interest is picking up. This week's hiring of Turner Gill as head coach is boosting optimism.
Individual meetings with potential members are producing results.
"We are extremely optimistic about this and we're talking to a lot of people and it's our intention, obviously, to get this done," he said.
The project remains in the design phase, Marchiony said, but quickly could be moved into construction should the money become available. If the club doesn't open in time for the 2010 season, memberships wouldn't be in effect until the doors open.
Just how members would be compensated for the delay would be a matter between Kansas Athletics and the individual members.
"We will talk to them about that," Marchiony said.
Construction of the Gridiron Club is only the first part of a larger financing plan for other athletics and campus needs. Such efforts would be financed by membership fees, which Marchiony estimates could reach $200 million.
Kansas Athletics plans to use $25 million in membership fees to build an "Olympic Village" complex south of Allen Fieldhouse, to be used for nonrevenue sports. Another $40 million in membership fees would be sent to the chancellor's office, to address academic and other needs at her discretion.