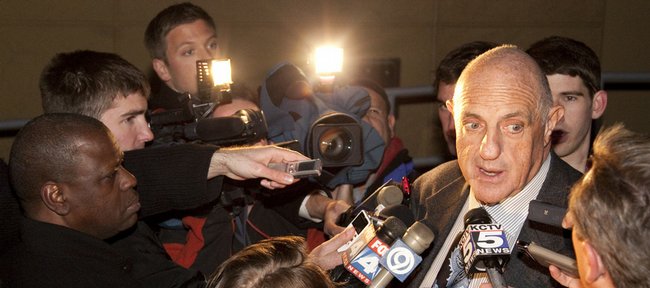 By mid-day Friday, the word around town (and Internet sites and radio and multiple news stations) was that Stanford coach Jim Harbaugh had pretty much been signed, sealed and delivered as the new coach of the Kansas University football team.
The only problem was, according to the man leading KU's ongoing search for a new coach, none of it was backed by any kind of truth.
In response to the numerous reports that surfaced throughout the day, KU athletic director Lew Perkins issued a short statement late Friday afternoon indicating that he had not made a contract offer to any potential head football coach.
"As we have said in the past, we will not comment on rumors about any potential candidates for the position of head football coach at the University of Kansas," he said. "Having said that, I will reiterate at this time that the process is ongoing. We have not offered the head coaching position to anyone."
Perkins' comments seemed to slow — at least temporarily — speculation that a Harbaugh-to-Kansas move is on the immediate horizon, though they likely did nothing to squelch fans' intrigue of Harbaugh, a former NFL quarterback and the third-year coach at Stanford.
Since former KU coach Mark Mangino was ushered out last week amid allegations that he'd physically and verbally abused players, Harbaugh seems to have topped many a wish-list as Perkins has gone about the task of replacing the second-winningest coach in Kansas football history.
In just three years at Stanford, Harbaugh, who comes from a family of coaches, has made the Cardinal relevant in the Pac-10, leading the team to an 8-4 record this season and its first bowl berth since 2001.
Stanford has been trying to negotiate a new deal with the 45-year-old coach, whose wife is from the Kansas City area.
Earlier this week, KU über-booster Dana Anderson — whose name adorns the football team's new $31 million complex — said he hopes the search is handled quickly in an effort to get things settled, and based on at least one recent development, his concern seems to be warranted.
Kansas University football commitment Jacoby Walker, a quarterback from Houston, de-committed from KU this week and will instead play at Utah, according to the Salt Lake (Utah) Tribune.
A three-star recruit according to Rivals.com, Walker committed to the Jayhawks in June, but reportedly began looking elsewhere after Mangino resigned.
Walker, who is set to graduate this winter, had planned to enroll at KU for the spring semester.
But with the uncertainty surrounding the head coaching position, doing so would have represented a significant gamble.
The effect of the recent coaching change on what has been a particularly strong 2010 commitment list — already, the team has landed three players rated as four-star recruits by Rivals.com —has been a concern since Mangino's departure last Thursday
As the program's remaining coaches have continued to try to keep the class intact, it has proven a difficult venture, at times.
"We're just trying to make them at ease and point out the things that haven't changed," defensive coordinator and interim coach Clint Bowen said last week. "Kansas is still a great university, a great community. They're still committed to football and being successful in football. And none of those things have changed."
Several names of candidates for the vacant Kansas job — aside from Harbaugh's — also have been mentioned of late.
They are:
Buffalo coach Turner Gill, who reportedly has interviewed with Perkins.
East Carolina coach Skip Holtz.
Houston coach Kevin Sumlin.
Central Michigan coach Butch Jones.
Wisconsin coach Bret Bielema and Wisconsin defensive coordinator Dave Doeren.