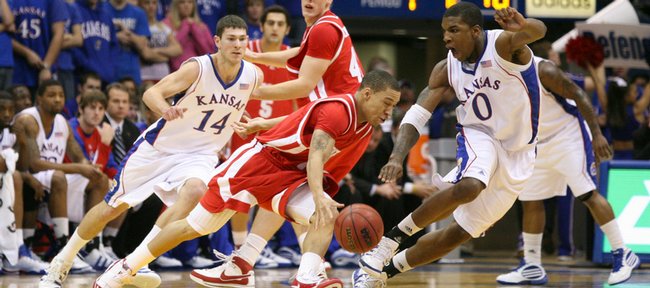 Kansas University freshman Elijah Johnson didn't jump up and down in jubilation — heck, he didn't even crack a smile — when coach Bill Self told him he'd be starting the first game of his college career Wednesday against Radford.
"I gave him a weird look. I basically ignored him," Johnson said after scoring 11 points on 4-of-6 shooting with three rebounds, one assist and no turnovers in the Jayhawks' 99-64 rout of the Highlanders in Allen Fieldhouse.
"It wasn't intentional," Johnson said of his ambivalent reaction upon receiving the good news near the end of Tuesday's practice. "You know how some things happen? Weird moments where you just don't know what to say so you don't say anything? It was one of those kind of moments."
The 6-foot-2 Las Vegas native, who started in place of Tyshawn Taylor (six points, six assists, five rebounds, no turnovers in 17 minutes), was much more emotional the day after learning he'd start after coming off the bench in KU's first seven games.
"It didn't register until they called the starting five," Johnson said of introductions. "Starting in Allen Fieldhouse for the first time ... that overwhelming feeling was just breathtaking. That's the best way to describe it ... breathtaking."
The eloquent Johnson also used the words "excited, energized and comfortable" to describe his feelings about starting.
"Overwhelming ... I use that word a lot when I come in here," Johnson said of the media room. "It means different things at different times. Overwhelming tonight meant I couldn't believe it."
Johnson — he was a bit too energized early in committing two quick fouls — had a bit of a panic attack just prior to the contest.
"I stole Cole's playbook," Johnson said of Cole Aldrich (15 points, nine rebounds), who held Radford big man Art Parakhouski to zero points the first half as KU blazed to a 36-18 lead.
"I left mine in my room. I just wanted to assure myself. I took his playbook and looked through every play just to make sure I knew what I thought I did."
Johnson actually showed some overanxiousness early, picking up two fouls in the first 3 1/2 minutes. He regrouped after a short stay on the bench and finished the half with nine points, hitting two big threes, with two rebounds. He also had a vicious dunk off an alley-oop feed from Sherron Collins to start the second half.
"I thought Elijah played really well," Self said. "And I thought Ty was good off the bench. And to be honest, I thought C.J. (guard Henry, 11 points, 10 minutes) ... I haven't given him a chance to play at all. Tonight was by far the best he's looked since he's been here. It looked like he belonged out there. It could get interesting where guys' minutes are being reduced, and maybe we can get out and actually pressure some people. We haven't done a good job with that."
He explained going to Johnson over Taylor.
"I don't think Ty has played to his capabilities, not from scoring, but from a defensive (standpoint) and being able to keep a guy in front of him and take pride in it," Self noted. "I predict Ty will get the job back, but right now there's no reason not to play Elijah."
Johnson admitted he felt more comfortable starting, thanks in part to Taylor, his buddy, who Johnson said has helped him immeasurably this semester, "giving me advice whether I wanted to hear it or not."
"I felt more regular, as I would say," Johnson said of starting. "I've never not started for a team until I got here. But I had no problem with that. I knew people in front of me were better than me. It came quicker than I imagined."
By coincidence, on the night he started, Johnson was the subject of a "pop-up video" that appeared on the center videoboard during the second half. The video mentioned the fact he's from Vegas, the home of Elvis, and some other lighthearted personal matters.
"It was during a timeout. I'm not supposed to look at the board," Johnson said with a grin. "Sherron (Collins, 15 points, eight assists) looked at me and said, 'Put your head up.' I saw Gary, Ind., (his birthplace) and people looking at me weird from the stands. I still want to see the video, because I was paying attention to coach and didn't see it."
It remains to be seen how long coach will keep him as a starter.
"He started tonight. When you say 'starter,' it's somebody who will start four of every five games for you," Self said. "We don't know if that's going to be the case. It could be. He certainly has come a long ways fast."