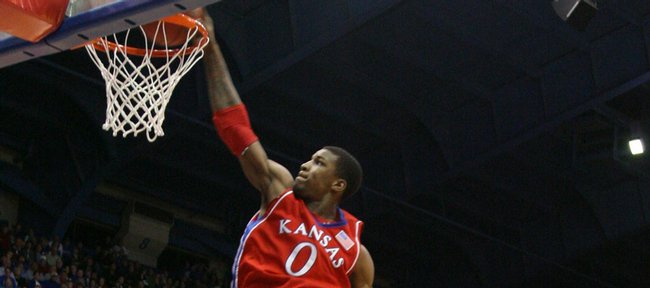 Thomas Robinson picked up a nickname Wednesday that he doesn't want to keep: Shaq-Rob.
"It's just a little joke going around tonight," the Kansas University freshman said, "because I missed a lot of free throws."
Robinson said assistant coach Danny Manning came up with moniker — a reference to NBA standout Shaquille O'Neal's notoriously bad free-throw shooting — on KU's bench. Teammates soon followed along.
"I've never shot that bad before. I don't remember shooting that bad. But tonight was horrible: three for 11," Robinson said of his free-throw effort in KU's 98-31 victory over Alcorn State. "That won't happen any more."
The free throws were about the only blemish on Robinson's stat line.
KU's 6-foot-9, 230-pounder finished with his first collegiate double-double, scoring 15 points to go with 10 rebounds. He also was 6-for-7 from the floor while playing a bit weary.
"We had a pretty tough practice yesterday. Everybody didn't have any legs today, but we still came out and played hard with fatigue going against us," Robinson said. "We learned how to control that and play hard still."
Robinson didn't appear to be exhausted Wednesday, as some of his hustle plays helped KU gain extra possessions.
"I can't make it known to the public I'm tired," Robinson said with a laugh. "I have to keep playing hard every play."
Robinson admits he's learning that while playing fast is his game, sometimes playing under control is more important.
For example, his focus lately has been on improving his perimeter defense.
"When it comes to certain things like defense and closing out, you might want to slow down sometimes," Robinson said. "That's just something I have to work on. That's not going to take long, but right now it's still a process of getting better."
In the post, Robinson also has performed better when he has composed himself before going up with a shot.
"(The coaches) are helping me slow down on my moves. They're helping me read the defense, instead of just getting the ball and going," Robinson said. "It's much better, and it takes a lot of work off me, too."
Following his 3-for-11 performance Wednesday, Robinson is just 13-for-30 (43.3 percent) from the free-throw line this season.
"Coach (Self) said we're going to get in the gym and work on that," Robinson said. "That'll be the last time ya'll will see that."
And also, Robinson hopes, it's the last time he has to hear his nickname as Shaq-Rob.
"He'll knock down the free throws," KU freshman Elijah Johnson said with a grin. "That name will disappear in a couple of days."