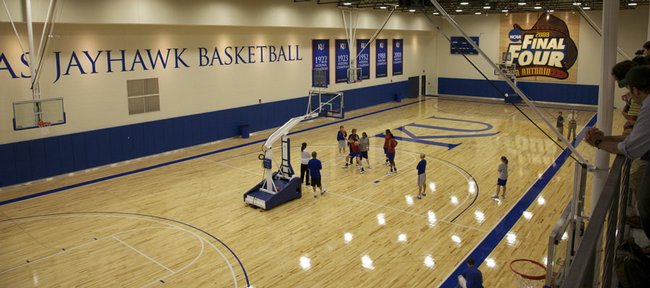 Kansas University's new basketball practice facility is quite a sight.
The center jump circle from the Alamodome floor on which the Jayhawks last won a national championship hangs from one wall, opposite a huge picture window looking out on historic Allen Fieldhouse.
"Kansas Jayhawk Basketball" in the ubiquitous Trajan font runs along the south wall, along with five replica national championship banners, opposite second-floor balconies just off the offices of head hoops coaches Bill Self and Bonnie Henrickson.
But despite the tasty visual treats — luxe playing surface, sharp graphics — the place also tickles the other senses.
Henrickson talked about the "feel" of the place.
Junior Krysten Boogaard is smitten by the smell.
"It smells like new floor," she said. "It smells like basketball."
And then there's C.J. Henry, half of the ballyhooed Henry-brother duo expected to have Self's men's team a morning-line favorite for the Final Four who admitted to giving the days-old new digs an aural workout.
One nifty feature of the facility — which opened Monday, and Wednesday was thrown open for a tour by media representatives — is a built-in sound system into which players can plug their own personal music devices.
"There's a sound system in there so you won't be in the dark just shooting. We turned it on yesterday," Henry said.
How'd it sound?
"Too loud," he said with a smile. "It gets too loud, so they told us we can't turn it up. It gets LOUD."
Henry is certain Self will be cool to the tunes, even though it's Self's workspace that's sure to suffer if the Jayhawks turn their iPods up to 11.
"I don't think he cares as long as we're not shaking his glass or rattling his cup," Henry said. "I think he'll be fine with whatever."
There's no word on how the place tastes yet, but all the other senses seem to be covered.
Of course, the facility —to be named in honor of the Forrest Hoglund family, a major donor to the project — was designed for reasons more practical than sensory.
With two basketball teams and a volleyball team vying for limited practice space in just two indoor gyms — Allen Fieldhouse and Horejsi Center — conflicts were common.
"It got complicated when volleyball was in and both basketballs were trying to practice," Henrickson said. "If we didn't have this now, with Allen being renovated, we'd really be in trouble. It eliminates the 5:30 workouts."
Boogaard recalled scrambling to find time for individual shooting sessions.
"They would give us specific times. You'd have a time frame," she said. "The volleyball team would be in Horejsi. You'd have to shoot from 6 to 8. So you'd have a set time you'd have to come. This way it's a lot easier. You can kind of come according to your own schedule."
A critical feature is the court-and-a-half design. The added length means teams can hold, say, full-court scrimmages while individuals shoot on the half court.
"You can get individual work in while they're playing pick-up," Henry said. "If you're not playing, you can get some shots up instead of waiting off to the side for your turn, getting cold. Just more goals, too. Everybody can be doing something so things just run smooth."
There might be a drawback to the court-and-a-half design, however, should the coaches decide to run full-court drills over the full length. Of course, it could result in the Jayhawks being 50 percent more conditioned.
"Before they got that basket up, before they really thought, they said, 'It's really long,'" Henrickson said of her Jayhawks' initial reaction. "Of course. It's a court-and-a-half. They said, 'We're not trying to implement any new sprint drills, are we?' Well, not yet."
The men noticed, too.
"The first time we came up here, the goal wasn't in the middle of the court, and my brother was like, 'Man, this court is long,'" C.J. said of brother Xavier. "I'm hoping they don't make us run the whole court-and-a-half, but I guess they will."
And then there are the balconies, from which Self and Henrickson can keep a close eye on their charges (only when permitted by the NCAA, of course).
"From coach's perspective, it's probably a good thing," Henry said of the Big Brother oversight. "From our perspective, it's probably … most players would say it's a bad thing. But it's a good thing that he can peek out there and see what we're doing, see that we're working hard."
Henrickson said that she'd done a little more from her perch, to which she joked the secretarial staff is plotting to add a grill and patio furniture.
"I love it. It's awesome," Henrickson said of the new digs. "I missed my first two shots off the balcony, though. I'm going to have to work on my H-O-R-S-E shots."
The practice facility is part of a $42 million donor-financed renovation that includes work on Allen Fieldhouse and its surrounding buildings.
From the players' standpoint, though, the practice facility is the crown jewel.
"I've been in a few," Henry said. "This, shoot, is the best once I've seen. Our weight room is close. It's just brand new. That's what stands out to you. It's just new. It's first-class."