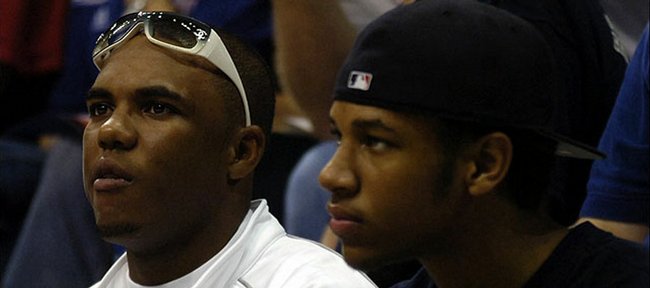 Oklahoma City — Xavier Henry is headed to Kansas University.
Henry, a 6-foot-6 guard from Putnam City (Okla.) High School, announced his intentions to play for the Jayhawks at a Thursday morning news conference in front of about 50 media members at the high school.
Henry's brother C.J., a 6-3 freshman guard from the University of Memphis, also announced he'll be headed to KU in a speaker-phone interview from Memphis.
"Next year, I'll be taking my game to Kansas," Xavier Henry said in his opening statement at the news conference. "That's all I'm going to say."
He had a lot more to say during interviews for the next 20 minutes.
"I grew up always wanting to go to Kansas," Xavier said. "I switched to Memphis because my brother was going there. Now, with coach (John Calipari) leaving (for Kentucky), we've decided to go to KU. I'm really excited. That's where my whole family played," added Xavier, whose dad Carl, mother Barbara and aunt Vickie all played for KU.
Xavier said he called KU coach Bill Self with his decision after working out in the high school gym two days ago.
"Coach Self was really excited, especially having the both of us. He is ready to get next season started," Xavier said. "He asked me, 'Are you sure?' He wanted me to be serious. I said I'm coming."
Xavier, the No. 8-rated high school basketball senior on Rivals.com and a McDonald's All-American, said the Jayhawks will have a great team next season.
"They said they will be close to preseason No. 1 without us," Xavier said. "Now I think we'll be one of the best teams. I think the sky is the limit."
C.J. Henry said he was equally excited about joining his brother at KU. Barbara Henry indicated that her son will be able to play next season without filing an appeal with the NCAA.
"We're very close. It's going to be fun to play with my brother," C.J. said. "It wasn't going to happen at Memphis. I think Kansas is a good place for us. It's where (Xavier) wanted to go in the first place. It will be a great experience. It will be fun."
Barbara Henry said she will be moving to Lawrence as well.