Photo Gallery
KU baseball beats Oklahoma State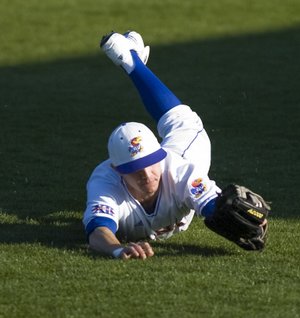 Pitcher Shaeffer Hall led KU baseball past Oklahoma State, 8-1.
Apparently, someone has forgotten to inform the Kansas University baseball team that it's not supposed to be winning games this season.
Despite being picked to finish last in the Big 12 in at least one preseason poll, the Jayhawks entered the weekend just 11⁄2 games behind Baylor for second place in the conference, and after Friday's convincing 8-1 victory over No. 17 Oklahoma State — a win that moved them ahead of the Cowboys in the conference standings — are in the midst of making a case for inclusion in the Top 25.
"At the beginning of the year," said second baseman Robby Price, who finished 2-for-3 with an RBI and two runs Friday, "you couldn't have asked for anything better than what we're doing right now."
Friday's victory certainly did nothing to contradict that statement.
Led by junior ace Shaeffer Hall, the Jayhawks built an early lead and didn't look back, outplaying the Cowboys in nearly every facet of the game.
Hall was predictably effective, pitching nine innings, giving up just five hits and one run and — for fun — recording a career-high nine strikeouts. Not once did he allow the first batter of the inning to reach base, while the Cowboys — who entered the game third in the Big 12 in team batting average — failed to put a runner in scoring position until the sixth inning.
"We were facing a first-round draft pick (in Oklahoma State starter Andrew Oliver), and we had to match him zero for zero," said KU coach Ritch Price. "And I thought that Shaeffer Hall was excellent."
Even a mediocre outing, however, would have likely done the trick Friday.
Designated hitter Zac Elgie built upon his recent string of success, going 2-for-4 with a triple and home run, and third baseman Tony Thompson inched closer to the .400 mark, going 2-for-3 with three RBIs to provide Hall with more than enough wriggle room.
Kansas scored in all but two innings, stringing together nine hits and knocking Oliver from the game after just 41⁄3 innings.
The Jayhawks kicked things off with a run in the first, when an OSU fielding error allowed Brian Heere to score from first. Two innings later, Thompson singled to score Price and David Narodowski and push the lead to 3-0 before scoring one run in each of the next three innings.
The Cowboys lone run came on a solo home run by Doug Kroll in the top of the seventh inning, but by that time, Kansas had already put six runs on the board, and the Jayhawks left Hoglund Ballpark on Friday night content in their position within the conference.
"We feel pretty good," said Elgie, who has put together eight hits in his past three games. "We've knocked off some good teams, and we've lost some close ones, as well.
"If you take some of those out, we're right in the thick of things.