Reader poll
Michigan State

74%

315 votes

North Carolina

16%

71 votes

Undecided

8%

37 votes
423 total votes.
Feature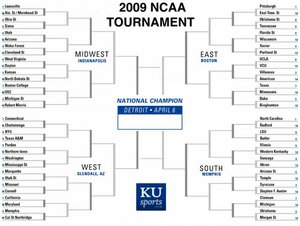 Get yer bracket on! Browse all brackets, check out out KUsports.com staff brackets, and check to see how your bracket's holding up after each match up is complete.
Detroit — Common sense says North Carolina will win tonight's national title game at Ford Field.
Common man is pulling for Michigan State.
Cold, hard facts say North Carolina hangs its fifth championship flag.
Soft, warm and fuzzy wants the banner hung in East Lansing.
Clear, independent analysis has declared this game won't be close.
Rational thought computed the box score from Dec. 3, when North Carolina came to Detroit for a site-inspection dissection of Michigan State.
The final score was 98-63, Tar Heels.
North Carolina, though, is a different team now.
"I think we're better," North Carolina coach Roy Williams said.
Better than 98-63?
"I think we're better defensively," he said.
Today, somewhere in Chapel Hill, somebody is unfolding rented chairs and drawing up parade routes.
The Tar Heels have won five games in the NCAA Tournament by 12 points or more with a roster of future NBA Draft picks who put off professional paychecks for one last, glorious stab at amateurism.
Senior forward Tyler Hansbrough didn't want to leave after last year's loss to Kansas University in the national semifinals, a game North Carolina trailed by 40-12 before losing by 18.
"Any team who gets in this position wants to finish," Hansbrough said. "It is not just because we had all these people coming back."
North Carolina craves national titles for the same reason sharks are drawn to blood. The pursuit of crowns is in Carolina's DNA.
Williams doesn't like being in the black-hat position of possibly hoisting a trophy against a backdrop of partisan Michiganders, many mired in economic misery.
"I do realize they have a cause," Williams said Sunday. "Well, we also have a cause. We want to win a national championship, period, the end. And if you would tell me that if Michigan State wins, it's going to satisfy the nation's economy, then I'd say, 'Hell, let's stay poor for a little while longer.'"