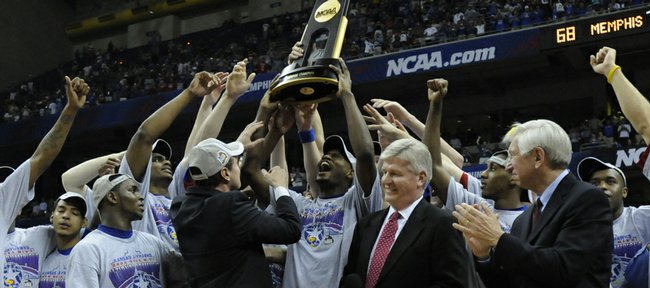 Kansas University's yearlong reign as national basketball champion will come to an end shortly after 10 tonight.
Players and coaches from either North Carolina or Michigan State will climb the ladder and clip the nets at Ford Field in Detroit, then sit on the throne until the 2010 Final Four in Indianapolis.
"It's never going to be the last day of being defending national champions for me," former KU forward Darnell Jackson said via text message from Cleveland on Sunday night.
"I think about that game every day," the Cavaliers' rookie added of KU's 75-68 overtime victory over Memphis in the 2008 NCAA title game last April 7 in San Antonio. "The guys on the (Cavs) team ask me about the Final Four almost every day. I tell them it was the greatest feeling in the world."
He had his finest moment as an NBA rookie Sunday.
Awarded his first career start, the 6-foot-9, 253-pounder scored four points and grabbed five rebounds while logging 24 minutes in Cleveland's 101-81 home rout of San Antonio.
"Getting my first NBA start was great," Jackson said. "I was standing up, putting my jersey on, and coach (Mike Brown) said, 'D-Block you are starting at the 4.'
"I looked at Mo Williams and King James (LeBron James) and sat down real fast. They both just laughed at me. Hopefully I will be holding an NBA trophy at the end of the season. Rock Chalk," he added, signing off.
After the game, Jackson told the Cleveland Plain-Dealer, "I got nervous a little bit when he (Brown) told me right before the game, but once I got out there I was fine. I just tried to stay focused and do my job."