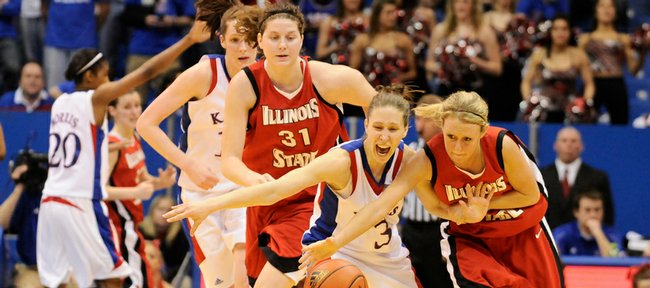 Nicollette Smith may not be able to buy a three-point basket, but she's money from the free-throw line.
Smith hit seven of eight free throws in the last 21 seconds as Kansas University squeezed Illinois State, 75-72, in a WNIT semifinal Wednesday night in Allen Fieldhouse.
"I think that's probably the biggest thing I've ever done," Smith said of her foul shots. "They were huge. I knew I needed to step up."
Thanks in large part to Smith stepping up — not to mention Danielle McCray's 31 points — KU advanced to the tourney championship game.
The Jayhawks will meet South Florida, an 82-65 victor at Boston College, in Wednesday's other semi, at 1 p.m. Saturday in Allen Fieldhouse.
Smith, a 6-foot-2 sophomore from Tulsa, Okla., was leading the Big 12 Conference in three-point shooting percentage in January. But she has been in a horrible slump lately, missing 16 of her last 17 three-point attempts, including three Wednesday night.
"I make them in practice," Smith said, "but in games, I don't know. I'm trying everything I can with my threes, but they're not falling."
Fortunately for the Jayhawks, however, her free throws are.
"I was nervous every single time I was up there," Smith said, "but I knew my teammates had confidence in me."
One who definitely did was McCray.
"Nic and I shoot free throws together in practice," McCray said, "so I said to her, 'It's just like practice, just relax.'"
With the Redbirds trailing and forced to foul, the players coach Bonnie Henrickson wanted most at the foul line were McCray and Sade Morris, both better than 80 percent shooters at the foul stripe.
But Morris fouled out with :15.7 remaining, and the Redbirds were all over McCray when Ivana Catic looked to toss the ball in.
"They had three people on Dee," Catic said. "They were playing the odds. It was good coaching on their part to try to make somebody else shoot free throws."
That somebody else was, of course, Smith, whose free-throw percentage was a so-so 62.5 percent (30 of 48). In fact, Smith had shot only five free throws during the previous three WNIT games, and she had misfired on three of those.
So it was good strategy on the part of ISU coach Robin Pingeton but, thanks to Smith, the plan backfired.
"Those were huge," KU coach Henrickson said of Smith's clutch charities. "I was glad to see her knock them down."
While Smith supplied the heroics, McCray continued her astonishing run through the WNIT. Wednesday was her third straight plus-30-point performance.
"She's an amazing player," ISU coach Pingeton said. "She played 40 minutes. I felt at times she was getting fatigued, but she got her second, third and fourth wind."
McCray's signature play occurred with 39 seconds left. Kansas was nursing a 65-62 lead when McCray bricked a baseline bank shot, but snatched the carom, horsed it back, was fouled and cashed the free throw to complete the conventional three-point play.
McCray was able to perform at a high level despite being the obvious focus of Illinois State's defensive game plan.
"Tonight might be as ugly as anybody has made her play," Henrickson said. "But if they're going to chase you, hug you and trap, you have to find other ways to score."
In the final analysis, Kansas was fortunate to live to play another day because the Jayhawks surrendered 13 offensive rebounds and were guilty of 18 turnovers while Illinois State (27-8) had just six giveaways.
But when it appeared the Jayhawks (22-10) were about to blow a 17-point lead, they were fueled down the stretch by Smith and McCray and by the energy provided by 8,360 fans, the fifth-largest women's crowd in school history.
"I think our players were surprised by the size of the crowd," Henrickson said, "and I told them that's what it's like when you win."