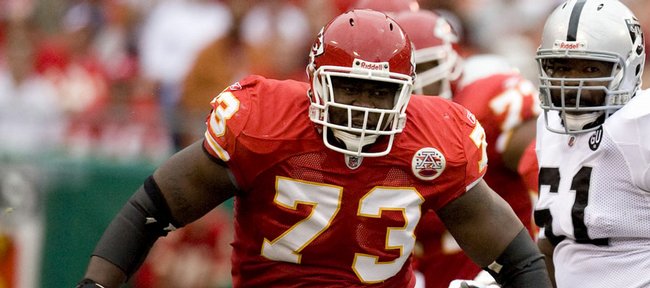 Kansas City, Mo. — Adrian Jones says to call him A.J., reaching out a hand before pulling a shiny, red Chiefs polo shirt over his Air Jordan sweatpants.
Behind him are two pairs of red cleats, two neatly folded white towels and a locker with a red nameplate: "Adrian Jones 73."
Jones is the first Kansas University graduate on the Kansas City Chiefs' 53-man roster since Doug Terry in 1995.
And he's the one who never thought he'd be here in the first place.
"Going to the NFL was never an idea I had," he said with a grin. "I always wanted to go to the NBA, if anything. I always told people I'd go to the NBA. I felt like I was better at basketball than football."
Jones, who was a tight end for three years at KU before making the switch to offensive tackle his senior year, is in his fifth season as a professional.
He's now the starting right guard for a rebuilding team.
"The main thing in football is to make a step forward each play - each play and each game," Jones said. "You want to get better."
His teammates will attest to his improvement on the field over the past nine months.
But Jones also is proud for another reason. As a man, he also has taken steps forward.
'I've already : cheated death'
The car flipped twice.
It was 1999 - Jones' first year at KU - and he was driving back on the Kansas Turnpike during Thanksgiving vacation to visit his family in Texas.
He had taken off his seatbelt to remove a sweater when his car blew a tire.
Jones was thrown from the vehicle, landing headfirst on the road.
He spent three days in the hospital and was diagnosed with a bruise on his brain and also a severe concussion.
"The scary part about it was that the doctors didn't really know (what to do)," Jones said. "They'd never dealt with a case like mine."
The doctors left the decision to him: Jones could take a medical red shirt for the rest of his years at KU and give up football, or come back and play despite the uncertainties regarding his health.
He chose to return to the game, earning playing time the next season as a red-shirt freshman.
Four years later, Jones was taken in the fourth round of the NFL Draft by the New York Jets.
"Whenever I'm faced with a big problem, I think back on that occasion and how I was able to bounce back from it," Jones said. "I always use that as a stepping stone. I've already almost cheated death once, so I can pretty much deal with anything else."
Becoming a role model
Jones admits that he still had some growing up to do.
Less than two weeks after his selection in the draft in 2004, Jones was arrested in Lawrence and charged with driving under the influence.
Two years later, he was pulled over in New York and charged with a DWI. He was fined $20,000 by the Jets.
"The way I felt I disappointed my family and embarrassed my family - it wasn't worth it for those couple of drinks," Jones said.
Afterwards, Jones apologized to his team, saying he wanted others to learn from his mistake.
He also had to serve an additional punishment: His driver's license was suspended for a year after he refused to take a blood-alcohol test.
That meant, after his practices with the Jets, Jones had to get a ride from a teammate, call his wife or phone for a cab.
He vowed to alter his lifestyle after that. Jones said that he has become a "Sprite/club soda kind of guy," occasionally mixing in a bottled water.
The DWI, he says, is long behind him.
"I've definitely moved on from it," Jones said. "It's shaped me in a better way. It made me a better man."
Friendly rivals
Damion McIntosh and Adrian Jones couldn't be much closer on the field, lining up next to each other on the right side of the Chiefs' offensive line.
In the locker room, though, the two are divided in their loyalties.
Jones is from KU. McIntosh, a nine-year pro, graduated from Kansas State.
"We're always going at it," Jones said. "He's always telling me that K-State never lost to KU while he was there. Then I'm talking about now, saying KU's growing, and they're getting better."
Lately, with KU's recent success in football and basketball, it has been Jones who has been able to do most of the talking - or so he says.
"Especially with KU going to the Orange Bowl and winning the national championship, I can really hang my hat on that," Jones said. "I don't think K-State's ever done that before, so I can actually always have one-up on him on that."
Jones says he has followed the Jayhawks since leaving, trying to catch all their games on TV.
Even after watching the South Florida loss, he said he wouldn't be surprised if KU still made its way to a BCS bowl.
"(Kansas coach Mark) Mangino's a big part of that program," Jones said. "He's come in there and pretty much turned that program around."
Making strides
There was some doubt last season whether Jones ever would reclaim a role as a starter in the NFL.
He played just one game with the Jets on the offensive line and participated in six other games on special teams.
With two weeks to go in the season, Jones was released.
The Chiefs - and Herm Edwards, the coach who originally drafted Jones - were there to scoop him up.
Since then, Jones has worked his way to the top of the depth chart.
"He's probably progressed more than any other player - especially up front - since the end of the season," said Chiefs left guard Brian Waters, a three-time Pro Bowler. "He's done a great job, especially in the run game, really just knocking guys off the ball."
Jones said, even after being cut, he never doubted himself.
"You've got to be mentally tough in this game," Jones said. "You've got to be able to just roll with the punches."
The KU graduate has been able to do that in more than just football.
"The NFL was never really in my future that I thought of, but you just never know where God puts you at," he said. "I'm definitely happy and blessed it turned out this way."