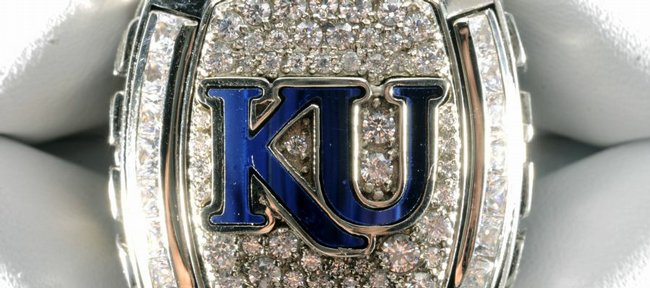 KU championship ring wallpaper
Download a wallpaper for your computer featuring Bill Self's NCAA championship ring.
Feature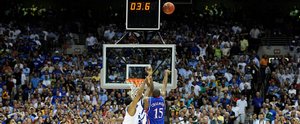 The Lawrence Journal-World looks back at the men's basketball season of 2007-2008, in which the Jayhawks claimed the NCAA championship title for the first time in 20 years and its third ever.
Brandon Rush removed his shiny, new national championship ring from a fancy black box, proudly displaying his prized possession to a handful of reporters Friday night in Allen Fieldhouse.
"It's beautiful as you can see," Rush, leading scorer on Kansas University's 2008 NCAA title team said after a 21â2-hour banquet in which rings were distributed to the 2007-08 Jayhawk players and coaches.
"The banquet was pretty cool. Different players came back and spoke," Rush added of a night in which former KU players Jacque Vaughn and Wayne Simien were featured speakers as well as coach Bill Self and forward Darnell Jackson off the title squad.
"The highlight was getting this," Indiana Pacers rookie Rush added of the ring, which he excitedly fumbled to the floor twice while speaking to the media.
"I'm giving mine to my grandma. She has all my rings in a framed glass. She'll put it up there," Rush added.
The only ring-recipients who missed the festivities were: Darrell Arthur, who had a team commitment with the Memphis Grizzlies, as well as Russell Robinson and Sasha Kaun, who are playing basketball overseas.
Former KU players Simien, Vaughn, Nick Collison, Kirk Hinrich, Nick Bradford and Terry Nooner were on hand to provide their best wishes.
Cleveland Cavaliers rookie forward Jackson said his ring was headed to a safe deposit box.
"I can't give it to my mom, she'd lose it. She'd carry it around, leave her purse somewhere and somebody would take it out of there," Jackson said with a laugh.
"It's a great accomplishment getting this ring. A lot of guys put hard work into this. Even the older guys who were here before.
They tried to go after the same thing and couldn't quite pull it off. I guess it was our turn."
Collison of the Oklahoma City Thunder and Hinrich of the Chicago Bulls were given gifts for attending - pieces of the old Allen Fieldhouse floor.
"That was very cool," Collison said of the gesture. "The rings are great. Those guys deserve it. They won it. It was a really nice dinner. It was fun to come back. It's always good to come back here."
Hinrich noted: "I came back because this is a big deal. The championship is something you work for, always. All the former players like to come back and show respect. This place still means so much to us.
"I was cheering hard," Hinrich said of KU's 75-68 national title victory over Memphis. The second half of that game was shown at Friday's banquet.
"It was an amazing game. It was definitely an instant classic, one of the championship games that will be played a long time, the way that game went," Hinrich added.
Though there has been no official word from KU, word at the ceremony was there will soon be an announcement that Hinrich's jersey will be the next to be hung in the rafters of Allen Fieldhouse, sometime this season.
Coach Bill Self said he appreciated the former players returning. "We didn't ask a lot of ex-players, not out of disrespect, it was because we didn't have the room (in Naismith Room)," Self said. "We wanted to get some guys back that were recent enough that our current players could identify with. It was a great evening, one (that was) special for our guys. It was a very appreciative group of people tonight that were able to get their rings."
Self said he probably wouldn't wear his ring much. "I may wear it on recruiting visits though," he said with a smile, noting the rings were "beautiful."
Three top prospects attended the ceremony. They are: Daniel Orton, 6-10 from Oklahoma City; Thomas Robinson, 6-8 from Wolfeboro, N.H., and John Wall, 6-4 from Raleigh, N.C.