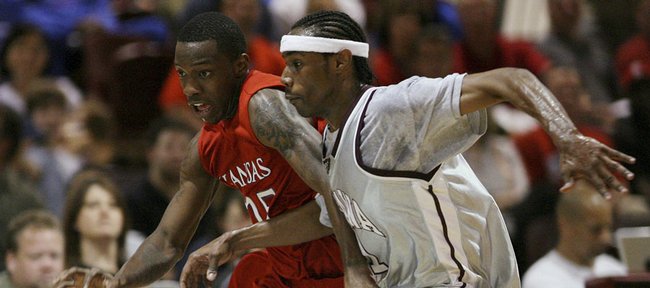 Ottawa, Ontario — Kansas University newcomer Mario Little fell just short of a triple-double in the Jayhawks' 95-60 men's basketball exhibition rout of the University of Ottawa on Sunday night at Montpetit Hall.
For the record, the undersized, 6-foot-5, 210-pound power forward scored 21 points off 9-of-11 shooting, dished eight assists and grabbed seven rebounds in 28 minutes.
"If I would have known that, I probably would have tried a little harder," quipped Little, whose 15 first-half points helped the Jayhawks to a 46-31 lead at the break.
He actually put forth an outstanding effort, considering he was basically playing on one leg.
Little revealed after the game he has been hobbled by a stress fracture in his lower-left leg.
"I've had it since last year (at Chipola, Fla., Community College). It's still healing. It's still kind of sore," said Little, who indicated he would not need surgery, but would be taking a few weeks off to speed the healing process.
"It hurts, but it's nothing I can't bear. I'm from Chicago."
Little saved his best game for KU's last game of the Canada trip. He scored nine points and grabbed six rebounds in a five-point victory over McGill and had eight points and five boards in a one-point decision over Carleton, both on Saturday.
"Today I started being aggressive, believing in myself, and stopped babying my leg," Little said. "I will play much better when my leg gets better. I'm going to get two weeks off, and it should be good by Late Night."
KU coach Bill Self acknowledged Little is a shadow of what he'll be.
"He has no explosiveness now," Self indicated. "He has a stress fracture. It's healing. We wanted him to get through the weekend. Now he'll get a week to 10 days off and be fine."
KU's coach definitely didn't baby the player in the three exhibition games.
"I didn't think he played well at all yesterday. I told him before the game : I said, 'I'd like to figure out if you can play or not. The No. 1-rated junior-college player in the country : play like that,''' Self said of his message to Little. "I thought he played very well tonight. He's just got to find his way. Most juco guys, it takes half a year before they are really comfortable. We need him to be comfortable. He's going to be one of our key guys."
KU's newcomers stole the show before a near sellout crowd of about 700 fans at Ottawa's gym.
Freshman point guard Tyshawn Taylor exploded for 20 points off 8-of-10 shooting with one assist against four turnovers. Freshman power forward Quintrell Thomas scored 12 points off 4-of-7 shooting with eight boards in just 17 minutes.
Freshman shooting guard Travis Releford had seven points and three rebounds. Meanwhile, sophomore Cole Aldrich had a third strong game with 10 points and seven boards.
Sunday's game was welcome considering the first two exhibitions were nailbiters. Self used all his available players early and often.
Brennan Bechard was best of the walk-ons with five points and four boards with two assists in 19 minutes.
"I thought I'd limit Cole's minutes the most. I didn't have to. His fouling did that in the first half," Self said of Aldrich, who picked up two quick fouls and played 13 minutes. "There's really not much difference in our guys now. I do think Cole, Tyshawn and Mario : when they play, they play at a pretty high level. Travis was terrific last night (in scoring 25 points versus Carleton), but had a freshman night tonight."
KU led just 18-15 11 minutes into the game, but went on a 13-4 run to open a 12-point lead with about five minutes left before the break. Conner Teahan had five points and Little three, while Bechard also swished a trey in the surge. Little scored six points and Taylor five in the final 3:46 of the half.
"It was a good game for us," Self said, "though we caught Ottawa on a night they didn't play well."
Ottawa, which was led by forward Dax Dessureault's 16 points, bricked 14 of 17 threes and finished shooting 31.6 percent to KU's 62.9 percent mark.
"I couldn't be more pleased with the trip," Self said. "And not just because Ottawa is a beautiful city. We played well and gained a lot out of the week of practices in Lawrence and games here."