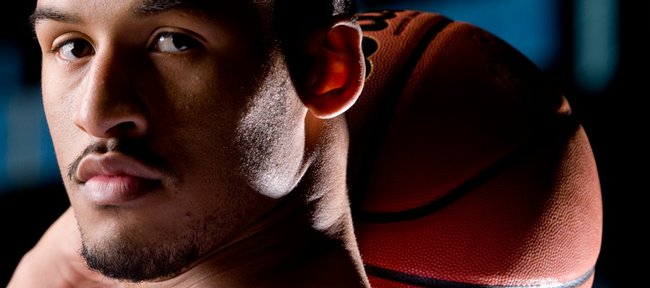 Kansas City Pump N Run basketball coach L.J. Goolsby will be watching the Kansas University-Missouri home-and-home series with great interest this season.
"I plan to be at both of those (games). I'll probably come to the Kansas game (in Allen Fieldhouse) and sit behind the KU bench and go to the Missouri game (in Mizzou Arena) and sit behind the Missouri bench," Goolsby said Thursday.
Four of his former Pump N Run AAU graduates (Brady Morningstar, Tyrel Reed, Travis Releford and Conner Teahan) play for KU, while three (Marcus Denmon, Leo Lyons and Steve Moore) toil for Missouri.
If recent performances are any indication, Releford and Denmon just might emerge as two of the top freshmen in the Big 12.
Releford, 6-foot-5 out of Roeland Park's Bishop Miege High, scored 25 points off 10-of-11 shooting while playing 26 minutes in KU's one-point victory over Carleton University over Labor Day weekend in Canada. He was KU's leading scorer on the trip at 14.3 ppg in three games.
Denmon, 6-3 out of K.C. Hogan Prep, erupted for 36 points off 14-of-17 shooting, including six of seven three-pointers, in Wednesday's Black-Gold intrasquad in Columbia, Mo.
"It definitely shows what they are capable of doing," Goolsby said of the duo who "were always competitive in practice. If we ever wanted to amp up practice we'd have those two guard each other.
"I think Marcus will play this year. Travis will play this year. Marcus will score. When he catches fire, he's as good as it comes. He can score in bunches. He'll surprise some people. He's one of those kids driven to be successful," Goolsby noted.
"Travis will fill up the stat sheet across the board. He'll have triple-doubles."
Goolsby believes Releford will be an asset on defense starting from Game One.
"Travis has always been a tremendous defender. It's why coaches love him," Goolsby said. "He does so many little things well. Travis had a knack ... he always wanted to guard the best players. He's got great instincts on the defensive end, great lateral movement.
"He's ahead of his years. It'll be fun to watch his development. KU winning the championship motivates him to want to make that happen with Tyrel and the other guys. They really want it."
KU coach Bill Self agrees Releford someday may be a lock down defender.
"He has enough natural athleticism to play anywhere right away," Self said. "He can be a high-major defender with his ability to slide, his strength. He's ahead of the game in some areas."
Pump N Run is sending another player to Mizzou next season. Point guard Michael Dixon of Lee's Summit (Mo.) West recently chose the Tigers over California, Oklahoma, Arizona and Purdue.
Other Pump N Run players on major college teams: Chris Balham, Nebraska; Casey Crawford, Colorado and Johnny Coy, Arizona State.
¢ ¢ ¢
Withey to leave Zona: Arizona freshman center Jeff Withey has decided to transfer, UA officials said Thursday. WIthey, 6-10 from San Diego, first committed to Louisville last year, then decommitted and signed with Arizona. He also considered KU, Texas, Boston College and Washington. Withey - he averaged 20.8 points, 13 rebounds, 7.3 blocks and 4.1 assists as a senior at Horizon High - has yet to indicate schools he's now considering.
¢ ¢ ¢
Cheek cuts two: Dominic Cheek, a 6-foot-5 senior from St. Anthony High in Jersey City, N.J., has eliminated Indiana and Seton Hall from his list of schools, Zagsblog.net reports. He has visited KU and Villanova and will travel to Pitt on Nov. 7 and Memphis on Nov. 14. He will visit Rutgers at a yet to be determined date.
¢ ¢ ¢
Mokeski in NBADL: Former KU center Paul Mokeski on Thursday was named assistant coach for the Anaheim Arsenal of the NBA Developmental League. Mokeski and Arsenal head coach Sam Vincent were on the staff of the NBA's Charlotte Bobcats last season.
"Sam and I have worked together at the highest level. We've gone through a draft together, a training camp, a preseason, and an 82-game regular season," Mokeski said. "All of that experience puts us ahead of the curve because we already know each other so well."
Mokeski's 16-year professional coaching career has included stints with the Bobcats, Dallas Mavericks, Fort Worth Flyers, and several CBA and USBL teams. Mokeski was a two-time all-Big Eight player at KU in the late 1970s.
Mokeski's son, Mike, is a 6-9 senior at Baker University. His son, Bryan, is a 7-1 junior at Newman University.