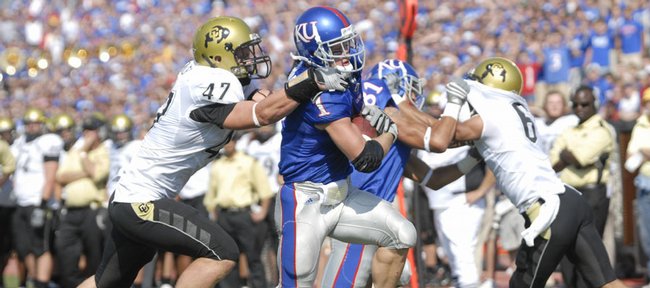 For five weeks of its 2008 season, Kansas University's football team had worked tirelessly to assimilate running back Jake Sharp into the run-game scheme that had served the team so well over the past few years, a north-south, fairly straight-forward attack.
And for five weeks, members of the coaching staff discovered that Sharp - an undersized speedster who rushed for 821 yards as a backup last season -just didn't fit that system.
As coach Mark Mangino aptly put it, "You can't put a square peg in a round hole."
So Saturday, the Jayhawks altered the hole - and created a few, too - by tweaking their scheme in an effort to utilize Sharp's abilities better.
The result? A season-high 118 rushing yards - the first time a KU running back has eclipsed 100 yards this season - and three touchdowns as the 16th-ranked Jayhawks topped visiting Colorado, 30-14, to move to 5-1 (2-0 in the Big 12).
Turning away from a ground attack tailored toward past standouts Brandon McAnderson and Jon Cornish - running backs more comfortable pushing the ball up the middle - offensive coordinator Ed Warinner implemented a package designed for a running back like Sharp.
More runs to the outside. More option-based plays.
In short, more opportunities for Sharp to handle the ball in the open field, where his most valuable asset, speed, could be utilized.
"Some of the things in our offense that we used the last couple years ... suited those running backs," said Mangino, whose team extended its home winning streak to 13 games. "And we had such great success with it that we didn't want to abandon it. But we were forced to put some new looks in the run game, and do some things that play to Jake's strengths, and it's worked out so far."
Of the various notable developments to come from Saturday's game - a defense that played one of its most complete games of the season - none carried the buzz of Sharp's re-emergence as a viable backfield option.
Just four weeks after Mangino called Sharp a "complementary back" whose job it would be to spell primary rushers Jocques Crawford and Angus Quigley, the junior from Salina was the only running back to carry the football as the Jayhawks rushed for their highest total, 151 yards, of the season.
"I guess anybody who's ever doubted the fact that I (can) do that, there you go," Sharp said.
For the second straight game, it took Kansas a half to get things going. The Jayhawks fell behind late in the first quarter, but a Jake Laptad safety midway through the second quarter gave the Jayhawks a 9-7 lead going into halftime.
The teams traded touchdowns in the third quarter, first on a five-yard pass from Kansas quarterback Todd Reesing to receiver Dezmon Briscoe, then on a one-yard quarterback-keeper from Colorado's Cody Hawkins. But two fourth-quarter touchdowns from Sharp - on runs of seven and eight yards that came less than three minutes apart - helped Kansas pull away and move to 2-0 in the conference for the second straight season.
Despite questions about their recent defensive struggles, especially in the secondary, the Jayhawks held Colorado to just 196 yards of total offense, the second-lowest total of the season. Kansas grabbed two interceptions and forced a fumble, and, as Mangino said afterward, bailed out the special-teams units, which had its worst overall performance of the season.
"It was one of those things where we want to let our offense know that we're here, regardless," said senior safety Darrell Stuckey, who intercepted a Hawkins pass in the red zone with Kansas holding a narrow 9-7 lead in the second quarter. "And we'll get the ball in your hands as much as we can."
It didn't take long following Saturday's victory for focus to shift to the next land mine positioned on the Jayhawks' daunting 2008 schedule: a 2:30 p.m. matchup with No. 1 ranked (for now) Oklahoma on Saturday in Norman, Okla.
Minutes after players made their way into the interview room of the Anderson Family Football Complex for postgame interviews, they were being bombarded with questions about the Sooners, a foe the Jayhawks will take the field against for the first time since 2005. Players were instructed by coaches to keep quiet about the Sooners, and they did, shucking questions about their next game and opting to bask in the glow of their most recent victory.
At least one player, however, didn't mind glancing ahead.
Asked whether he can continue the type of production he's accounted for over the past two games, a smiling Sharp offered up an encouraging response heading into a three-game stretch that includes two top-10 teams and a despised rival in Kansas State.
"I don't see why not."