Feature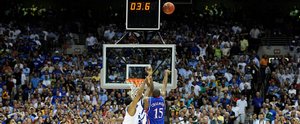 The Lawrence Journal-World looks back at the men's basketball season of 2007-2008, in which the Jayhawks claimed the NCAA championship title for the first time in 20 years and its third ever.
It's the year in sports that keeps on giving.
And Kansas University fans probably will never get tired of watching replays of Aqib Talib's interception for a touchdown in the Orange Bowl or the miracle three-point shot of Mario Chalmers in April's national championship game that allowed the Jayhawks to win the NCAA title in overtime.
The Sporting News this week named Lawrence as the 15th-best sports city on its annual list for 2008.
Lawrence trails only much larger metropolitan areas that all have professional sports franchises. In the last year, KU's football team finished 12-1 and won the university's first Orange Bowl, coupled with KU's third NCAA Men's Basketball Championship.
"It's a reflection of our terrific student athletes, our terrific coaches and our terrific fans," said Jim Marchiony, a KU associate athletics director. "And the fact that we're ranked so highly does not surprise me."
The list includes Boston at the top, after the Red Sox and the Celtics won titles, and the Patriots reached the Super Bowl.
The list measures October 2007 to October of this year. Point values are assigned based on categories, such as win-loss records, postseason appearances, applicable power ratings, the number of teams and attendance.
Marchiony said the support for sports in Lawrence is also reflected in the list. Thousands of people packed Massachusetts Street for Final Four victory celebrations and the basketball championship parade.
"They share in this because the fans are a huge part of the equation," Marchiony said.
Other highly ranked college sports areas include North Carolina's Raleigh-Durham-Chapel Hill cities at No. 24 and Morgantown, W.Va., at No. 25.
Other Big 12 Conference and area cities on the list were, Austin, Texas, 31; Norman, Okla., 47; Kansas City, 55; Columbia, Mo., 60; College Station, Texas, 66; Stillwater, Okla., 71; Lubbock, Texas, 74; Manhattan, Kan., 76; and, Oklahoma City, 79.
Boulder, Colo., was lumped in with Denver at number 7.