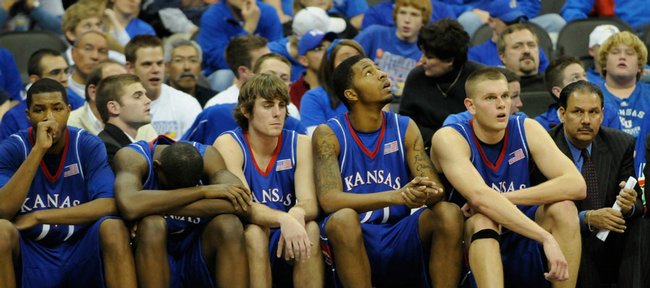 Kansas City, Mo. — There's something about Syracuse's basketball team that turns Kansas University's players into bricklayers from the free-throw line.
"Yeah, I've heard the history," KU sophomore center Cole Aldrich said, referring to the Jayhawks making just 12 of 30 free throws in the 2003 NCAA title game loss to the Orange.
"It's not quite the best history. We were hoping to change it around. Tonight we weren't able to," Aldrich said after the Jayhawks made 11 of 20 charities in an 89-81 overtime loss to the Orange in the finals of the CBE Classic at Sprint Center.
The 6-foot-11 Aldrich actually made five of six free throws; his teammates made six of 14.
However, Aldrich's big miss, which followed a make with 19.2 seconds left, kept the Jayhawks' lead at three points, 72-69. It allowed the Orange an opportunity to tie, which Jonny Flynn did by hitting a three from the side over Aldrich with six seconds left.
That three, followed by a Sherron Collins 14-foot miss at :02, forced overtime, which the Orange won handily, 17-9.
"I guess it's how the ball rolls," said Aldrich, who finished with 16 rebounds and 15 points. "The one I missed was a tough one. It could have made it a four-point game. The ball just didn't go in. It's how basketball goes sometimes.
"It could have made the game end there," he added of his charity miss. "We shouldn't have found ourselves in that situation. Syracuse kept fighting. It's a tough one to swallow."
KU led by a game-high 13 points (51-38) with 15:21 left. However, the Orange used a 19-5 run to get back in the game and actually grab a 57-56 lead at 8:31.
KU also had a comfy 67-60 lead at 3:51 before the Orange rallied.
"Tough game," KU coach Bill Self after the Jayhawks saw a nation's best 16-game winning streak come to an end. "It's a game we had under control for the most part. We had a couple dry spells, and Syracuse made some big plays down the stretch.
"Our inability to make free throws and put the game away led to them having a great win, because it was a great win for them."
The star of the game and MVP of the tournament — Flynn — finished with 25 points off 6-of-12 shooting and 11-of-16 free throwing. His big three with six seconds left came with Aldrich guarding him.
Self planned to sub for Aldrich defensively had he made the second free-throw try on the previous KU possession.
"We were switching ball screens. I got switched on," Aldrich said. "I thought I did a fairly decent job trying to contain him. He got a half step on me, pulled up and hit a tough shot."
Another big key was Syracuse scoring first in overtime and grabbing the momentum. Arinze Onuaku scored an inside bucket and hit the free throw following a Marcus Morris foul.
KU regained the lead at 76-75 following two clutch Aldrich free throws at 3:08. But Syracuse scored 10 straight points, the Jayhawks committing a turnover on a Marcus Morris pass to Aldrich that was picked off, an airball three from Collins, and missed threes by Reed and Conner Teahan in the stretch.
"We can't give away three points to start the overtime," Collins said. "As the leader I feel I let the team down. We made a lot of mistakes you can't make if you want to beat a team like Syracuse."
Self noted: "We were in hang-on mode as opposed to attack mode. We had to make some free throws to win the game and didn't get it done. Last night we made them (15 of 18 in a victory over Washington). Today we didn't get it done."
KU will meet Coppin State at 7 p.m. Friday in Allen Fieldhouse.