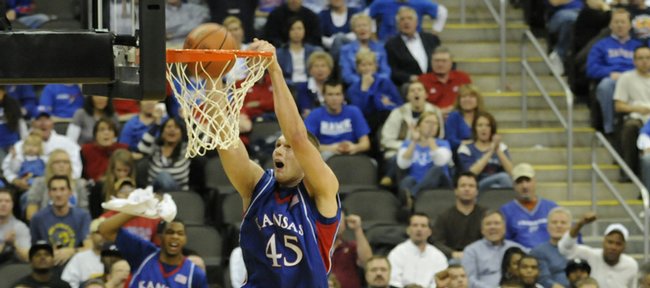 Kansas City, Mo. — One of the best big men in the Pacific-10 Conference found out what the best pivot in the ACC learned last season.
Specifically: "Cole is a monster," Kansas University freshman point guard Tyshawn Taylor said.
Taylor was speaking after watching 6-foot-11, 245-pound KU sophomore Cole Aldrich scored a career-high 16 points and blocked a career-best six shots while grabbing nine rebounds in the Jayhawks' 73-54 victory over Jon Brockman's Washington Huskies in a CBE Classic semifinal on Monday night at Sprint Center. It propelled KU into tonight's 9:15 p.m. final against Syracuse.
Aldrich, who had at least half of those blocks in KU's surprisingly effective 2-3 zone, passed his previous high of four blocks set against North Carolina's Tyler Hansbrough last postseason.
Brockman, a 6-7, 255-pound senior power forward — he plays bigger than his listed height — finished with 18 rebounds, but scored just seven points off 2-of-9 shooting.
"I love blocking shots," Aldrich said, giving an assist to KU video coordinator Kyle Keller, who suggested Aldrich "have some fun" and go for as many blocks as possible in practice and games this season. "That's one of the things I always enjoy."
Aldrich was just two blocks shy of the KU record of eight set by Greg Ostertag (twice) and Rick Suttle. He was one off Eric Chenowith's sophomore record of seven rejections in a game.
"I thought I was close to that tonight," Aldrich said, not realizing he had six blocks until he glanced at the stat sheet after a postgame interview session. "It's one of those things you have a lucky game where you get six."
He was not gloating about his effort against Brockman.
"Brockman showed he's a beast on the glass. He got 18 tonight. We were fortunate enough to play great defense on him and hold him to just seven points, which will not happen often throughout the season," Aldrich said.
His effort and the performance of Sherron Collins (18 points, five assists) helped the Jayhawks devour the Huskies, who hit just 29.2 percent of their shots.
"I thought our two returning (rotation) guys totally controlled the game," KU coach Bill Self said, only unhappy with the rebounding. KU was outboarded 43-34 overall — 28-13 the first half. The Jayhawks did, however, lead, 32-22, at intermission.
"I thought Cole was great. It was by far his best game, and he missed a couple bunnies (in hitting six of 12 shots overall). The thing I thought was really impressive about him was he played defense without fouling. Now, the zone protected him, but he challenged shots without fouling."
The Jayhawks enjoyed playing the zone for most of the game.
"It gave us a sneak attack," Aldrich said. "I don't know if Washington saw it coming."
"Coach put it in two days ago because Washington hasn't shot that well this year," noted freshman guard Taylor, who had 10 points, including a layup to close the first-half scoring. He also had the play of the game — a vicious block of guard Isaiah Thomas on a breakaway.
"I don't think Washington expected us to play zone," Taylor added.
Tonight, KU plays Syracuse, an 89-83 winner over Florida. The consolation between Florida and Washington will start at 6:45 p.m.
"They might play some zone," Self joked of the Orange, who have perfected the 2-3 under veteran coach Jim Boeheim.