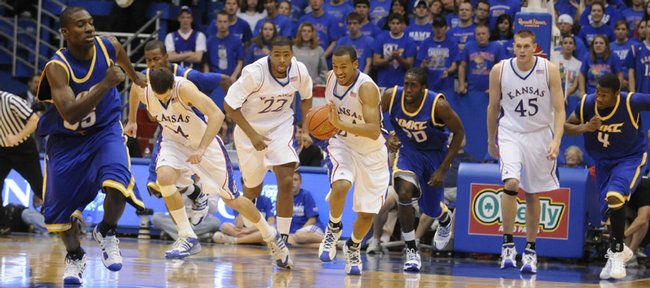 Markieff Morris had a severe case of opening-day jitters Sunday in Allen Fieldhouse.
"He had sweaty hands," Kansas University junior point guard/team leader Sherron Collins said after watching the freshman power forward muscle his way to 15 rebounds in a 71-56 victory over UMKC.
Collins knows this for a fact because he inspected the 6-foot-9, 232-pounder's mitts after afternoon shootaround, held several hours before the 7:30 p.m. tipoff.
"I even grabbed his hands to see how sweaty they were: pretty sweaty," Collins explained. "I just told him to calm down. I was the same way my first year. When you get in and get an easy basket or something happens good, then it will go away. I think once he got some rebounds and we started getting baskets, he was all right."
Morris, who had the third-best overall rebounding effort by a KU freshman since specialty records were first recorded in the 1988-89 season (Eric Chenowith had 20 against Texas A&M; in 1998 and Raef LaFrentz had 16 against Missouri in 1995), said he was so nervous he texted coach Bill Self about the matter after the shootaround.
"Coach said, 'Don't be nervous. Guys that came before you were nervous, too. It's natural,'" said Morris, who had seven boards the first half - one of the only bright spots of a half in which KU trailed by seven points before finally tying the contest at 32 on a Brady Morningstar layup to beat the halftime buzzer.
Morris - he missed badly on a first-half three-pointer (KU went 1-for-13 on the night) and finished with seven points - was so zoned out Sunday in making his KU debut, his story about texting Self must have lost something in the translation.
"He probably got me confused with somebody else, some young lady on campus. He probably texted her instead of me," Self said with a smile, always amazed at some things his players come up with in interviews.
"Markieff played pretty well," Self added. "The thing about our big guys, with the exception of Cole, we didn't finish in tight. Concentration, toughness, focus : you've got to finish some of those (inside shots)."
Morris was 0-for-3 from the field, his seven points coming off free throws in 10 tries. Quintrell Thomas also missed three inside shots while hitting three of seven free throws. Marcus Morris, who like Aldrich picked up two early fouls, hit his only shot.
Aldrich had all 13 of his points the second half off 5-of-7 shooting. He played just three minutes the first half.
Markieff Morris' key stat, of course, came on the glass.
His 15 boards were most in a KU debut game since at least 1988-89, again when specialty records started to be recorded. Wayne Simien had 11 rebounds in 2001 and David Padgett 10 in 2003.
"Coach (Danny) Manning said at halftime, 'You've got seven rebounds. Keep going after the ball,''' Markieff Morris said.
It turns out he has had way more than 15 rebounds in a game before.
"My senior year (at Philadelphia's Prep Charter High) I had 31 points, 27 rebounds, seven blocks," he said of a game in a tournament in Florida.
Might he pass Chenowith's 20-board outing sometime this season?
"I'll try," he said. "I should have had more than 20 tonight. I fell going after a couple."
He said the rebounds he did get came as a result of some hard work at recent practices.
"We had rebound challenges," Markieff said. "Hit your man and go get the ball. The first couple exhibition games, I was trying to go everywhere on the court. Today I started hitting guys before they hit me."
He hopes his offense will improve in coming games. The early ill-advised three earned him a reprimand from the head coach.
"Coach allows me to shoot them," Markieff Morris said. "It was a bad shot on my part. We had the size advantage. Coach wanted us to get the ball inside, and I took a bad three. I'm usually more efficient, but I had the jitters."
As evidenced by the sweaty palms.
Still they were sticky enough for him to finish with the 15 boards on a night KU outrebounded UMKC, 46-36.
"I saw tonight a motor. It's something he doesn't show every day, but he needs to," said Collins, who led the Jayhawks with 16 points in 37 minutes. "I think he's happy with himself. Hopefully he'll take positive steps to keep going. Tonight he just went after the ball like a man."
KU will meet Florida Gulf Coast at 8 p.m. Tuesday in Allen Fieldhouse.