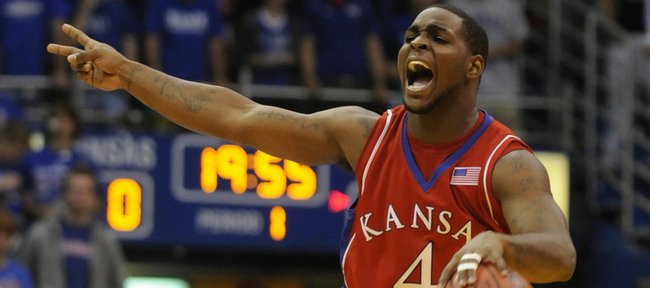 Everybody knows Kansas University's basketball team will rely heavily on Cole Aldrich and Sherron Collins this season.
"We have two standouts," KU coach Bill Self said of the dynamic duo, who erupted for 39 points off combined 14-of-19 shooting in the Jayhawks' 103-58 thrashing of Emporia State on Tuesday night in Allen Fieldhouse.
Collins hit for his 22 points and three assists in 20 minutes; Aldrich had 17 points and 10 rebounds in 18 minutes. Both sat out the final 16 minutes of the exhibition blowout.
Aldrich was 7-for-10 from the field, while Collins was 7-for-9.
"Cole was fabulous," Self said. "He will not hit every shot he takes; Sherron won't hit every shot he takes.
"Sherron's conditioning is not bad. He's doing a good job of leading a bunch of young guys right now. He'll play 32 to 34 minutes a game for us," he added of the stocky point guard.
Self on Tuesday surprised some media types when he singled out two other Jayhawks who have established themselves big-time this preseason.
Brady Morningstar, who burned ESU for 13 points off 6-of-9 shooting, and Tyrel Reed, who had three points and six assists against no turnovers, can count on possibly starting - certainly playing a lot - in KU's regular-season opener against UMKC (7:30 p.m. Sunday, Allen Fieldhouse).
"Brady and Tyrel the last two weeks have done a really good job. I won't use the word 'separate themselves,''' Self said, "but there's no way we'll go into the season without them being a big part of our rotation."
Morningstar, who accepted a pair of pinpoint passes from Collins for driving layups, showed the ability to run the floor well as a starter in KU's two practice games.
"Once Sherron gets the ball, everyone else says, 'Go,''' said Morningstar, who had seven points and three assists while playing 13 minutes the first half in helping KU blaze to a 56-30 halftime lead.
"When he and Tyshawn Taylor (four assists, no turnovers) get the ball, I run as fast as I can and get easy buckets to help get things going."
Morningstar - like Reed a sophomore - said he'll be ready to tackle a meaningful role a year after red-shirting.
"Surprised? I don't know if I'm surprised. I'm just trying to help the team any way I can," Morningstar said. "If coach puts me in there (as starter), I'll try to help the team any way I can. If not, I'll come off the bench."
Freshman forward Quintrell Thomas was the fifth starter Tuesday. He scored five points and had four rebounds in 13 minutes.
"He's been our second-best big guy," Self said.
Forward Marcus Morris came off the bench to contribute 11 points and six boards in 16 minutes.
The best big man was Aldrich, of course. The 6-foot-11 soph knocked down a pair of outside shots the first half to go with his array of inside moves. He scored four points to Collins' six in a 19-1 run that opened a 41-19 lead.
"This summer I worked a lot on that 15-footer, that elbow-free area," Aldrich said. "It's like Darnell (Jackson) last year coming down on the secondary break, taking that shot.
"I can shoot a 'half-courter' if you guys want. But my percentage goes down."
"I can shoot from about 17 feet," he added in a serious tone. "But it's easier getting shots to go in from two, three, five feet."
Self said he doesn't mind Aldrich shooting from the outside on occasion.
"If he's open," Self said. "He made two 16-footers. One was not a good shot in my opinion. It was good because it went in. We had a really small team in. If he shoots a 16-footer, there's nobody on the glass. The second one was high/low. They backed off. He stepped up and knocked it down. I'm very comfortable with him shooting that shot."
He's most happy when Aldrich hits the boards. He had 10 on a night KU won the board war, 44-23. KU led the rebounding total, 19-11, at half.
"Coach said at halftime, 'Win the boards by 20.' He gave us a little incentive, practice might be a little shorter, instead of eight hours, it might be 6 1/2," Aldrich said jokingly.