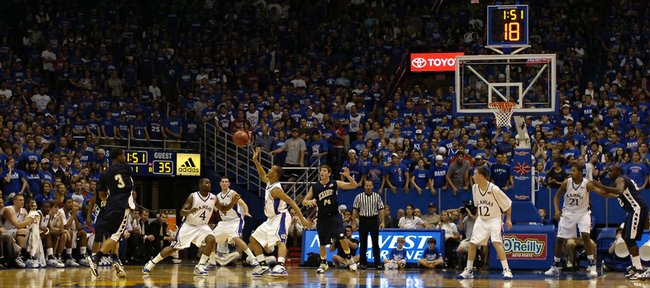 Audio clips
2008 KU-Washburn basketball
Reader poll
Tyshawn Taylor

43%

237 votes

Markieff Morris

2%

14 votes

Marcus Morris

1%

9 votes

Quintrell Thomas

38%

214 votes

Travis Releford

9%

54 votes

Tyrone Appleton

3%

21 votes
549 total votes.
Reader poll
Tyrel Reed

59%

184 votes

Sherron Collins

16%

52 votes

Cole Aldrich

4%

14 votes

Brady Morningstar

16%

52 votes

Conner Teahan

1%

6 votes
308 total votes.
Reader poll
KU men's basketball team

44%

103 votes

The presidential candidate you voted for

55%

126 votes
229 total votes.
KANSAS SCORING
Sherron Collins 22, Tyrel Reed 16, Brady Morningstar 15, Quintrell Thomas 10, Cole Aldrich 8, Tyshawn Taylor 7, Tyrone Appleton 6, Markieff Morris 5, Travis Releford 3, Marcus Morris 2, Matt Kleinmann 2, Conner Teahan 2.
Final, KU wins 98-79
Matt Kleinmann connects on his first points of the preseason, putting in a left-hook while drawing a foul. A brief chant of "Kleinmann, Kleinmann" erupts from the student section.
Tyrone Appleton, in the last couple minutes, adds a free throw and also a soft jumper off the glass. We should see more of him as he recovers from his hip flexor injury.
Kleinmann misses a pair of free throws that would have given KU 100 points, and a sloppy game ends after a Releford jumper clangs off the glass at the buzzer.
Stay tuned for postgame audio and final statistics.
3:42 left in game, KU leads 89-66
Collins has come to life, putting in a tough layup over a defender and also a 17-footer from the side. Later, he adds another drive to the hoop for two. It looks, to me, like his good conditioning is already paying dividends.
Morningstar and Markieff Morris contribute consecutive blocks on the defensive end to the delight of the students.
On one possession, Taylor gets into the lane, only to jump in the air without anything to do with it. He's shown some flashes of his speed and penetrating ability, but a few times, he's seemed unsure of himself after leaping into the air, and it has cost KU the basketball.
7:50 left in game, KU leads 81-55
Thomas contributed a strong move in the lane, clearing some space before putting in a lay-in. At 6-foot-7, 240 pounds, he's an interesting player for KU. He's not really a big and not really a small. I've heard some comparisons to Darnell Jackson, but he doesn't seem to have the same size and strength as Darnell (at least not yet).
In other news, Marcus Morris and Markieff Morris finally have given us a way to tell them apart: Marcus is wearing a T-shirt under his jersey, while Markieff is not. We'll see if that (hopefully) continues throughout the year.
11:29 left in game, KU leads 74-51
Self used three timeouts during the first seven minutes of the second half to get his team's attention after poor defensive possessions. The Jayhawks offense has looked good, but the coach obviously hasn't been happy with his team's effort on defense.
Using a quick first step, Morningstar drove the lane and laid in a two off the glass. Taylor followed with his own move, curling up the lane for a finger-roll. KU has shown great quickness, especially on the offensive end.
15:20 left in game, KU leads 65-45
Collins starts the second half with a pair of nice passes, one a scoop pass to Teahan for a layup and the other a kick-out to Morningstar for a three from the corner.
After a pair of turnovers, Self calls timeout to settle his team down. The coach hasn't treated this one like an exhibition, getting on his players and officials alike. He only has so many learning opportunities with this team before the regular season starts.
Halftime, KU leads 57-35
Travis Releford has a good possession right before the end of the half, playing good on the ball defense before grabbing the defensive rebound on the missed shot. He then dribbled it up the court, made a move past one defender, then threw a no-look pass to Reed under the basket. Releford also added a blocked shot on Washburn's final possession, showing some of his potential on the defensive end.
3:27 left in first half, KU leads 53-33
Tyshawn Taylor shows his speed, out-running a Washburn defender in transition for an easy two. Quintrell Thomas also has started to make his mark, grabbing an offensive rebound and putting it back in for two. He later put in three of four free throws to boost his point total to five.
Collins adds a steal, then takes it to the other end for two. In transition, Morningstar puts in two more on a floater off the glass. So far, I'd say he, Reed and Aldrich have been KU's best players.
Some of the most active people on the Kansas bench have been Bill Self and Danny Manning. They have leapt up to give instructions and also to yell at some unfocused players on defense.
7:40 left in first half, KU leads 37-26
Brady Morningstar helps extend KU's advantage, putting in a layup then pulling up for a 16-footer in transition to push the Jayhawks' lead to 27-19. He later adds another jump shot in the lane. This might be a bigger game for him than anyone as he tries to earn minutes in a crowded backcourt.
A three from the corner by Collins and a three-point play from Aldrich have helped the Jayhawks build a comfortable lead.
11:54 left in first half, KU leads 21-17
As was somewhat expected, KU has been careless with the ball. Washburn took a brief 14-13 lead before Reed hit two more threes - one from the left wing and one from the right wing - to put the Jayhawks up by five.
KU had a scare early, as during a scramble for the ball, Sherron Collins was slow to get up because of an apparent leg injury. He came out of the game, then was subbed back in a minute later.
15:48 left in first half, KU leads 13-9
Tyrel Reed has been the highlight of the earlygoing for KU, hitting a pair of threes from the same spot on the right wing. He also played good on-the-ball defense and forced a Washburn turnover, drawing the loudest applause of the night from KU coach Bill Self.
Cole Aldrich has looked good inside, grabbing nearly every rebound. He, along with Sherron Collins, will need to be a constant if the Jayhawks hope to play well later in the year.
Washburn's Lekheythan Malone seems to be soaking in the experience at Allen Fieldhouse, screaming out after getting fouled then shushing the fans after making a pair of free throws.
7:04 p.m.
Conner Teahan will start instead of Matt Kleinmann.
And the KU video department just out-did itself, putting together perhaps the best intro video I've ever seen. And that's saying something. Check for it on YouTube later this week, as it's definite goosebump material.
6:59 p.m.
I don't mean to be the bearer of bad news, but this is the emptiest I've seen Allen Fieldhouse for a men's game in a long time. As of now, there are about 15 empty rows in the northwest corner. I'm sure many stayed home to watch the election, but this is even fewer fans than I was expecting.
6:55 p.m.
The alma mater was performed in its new time slot, and it's going to take a little while to get used to. It's been sung after the national anthem for so long that I think KU fans were a little surprised when the order changed. The national anthem will now be performed closer to gametime to ensure that both teams will be on the court while it is played.
6:51 p.m.
A new song from the band: Sweet Child o' Mine by Guns N' Roses. Very nice.
Mario Little was dancing with his crutches at midcourt a minute ago. A stress fracture will keep him out a few weeks, though it couldn't stop him from swerving around a little bit. Chase Buford also is in dress clothes, so it doesn't look like he'll play either. I'll give you and update as soon as I get one.
6:32 p.m.
Here are some things to look for from KU in its first exhibition game against Washburn.
Can Tyshawn Taylor help lead the offense? From the reports we've gotten out of early drills, Taylor appears to be one of the most advanced among the freshmen. He's extremely quick and also showed an ability to shoot it well at Late Night, making all three of his three-point attempts. It will be interesting to see how he plays in his first official game under the lights at Allen Fieldhouse.
Which of the returning guards will step up? Kansas coach Bill Self said he will start five returners against Washburn, and that should give some guys the opportunity to prove they belong in the rotation. Though I see Tyrel Reed in line for major minutes, players like Brady Morningstar and Conner Teahan will have the chance show Self that they can step in and contribute early this season.
Who are the Jayhawks' outside shooters? Reed and Teahan are most likely the Jayhawks' best outside shooters right now, but who else will emerge? Will it be Taylor? The Morris twins? Morningstar? It should be interesting to see who shoots (and makes) shots from the outside.
Can this team play fast, but under control? Speaking with Self last week, he said this might be one of the biggest obstacles with his young team. He would like to see his players play fast all the time - without taking possessions off - while also taking care of the basketball. Teahan told me last week that KU only had about 10 percent of its playbook in place for this game, so don't be surprised if nerves combined with a limited number of set plays makes this a sloppy contest.
5:55 p.m.
Welcome to The Newell Post Live, coming to you from Allen Fieldhouse where the Kansas Jayhawks will open their season with an exhibition matchup against the Washburn Ichabods.
I wanted to start off this live blog with a KUsports.com vote.
I came across an interesting question posed by the user MICHHAWK on the KUsports.com message boards: If you can only have one winner today, would you rather it be KU men's basketball or the candidate you voted for for president?
I would think most people would respond by saying that they would rather have their president picked (especially because the Washburn-KU game is just an exhibition), but in the thread, the vote was pretty much split.
So, I'll ask you guys this same question: Which is more important to you: a KU men's basketball victory or the a win for the presidential candidate you voted for?
Post your response in the comments section below, and make sure to explain your answer. Also, you can vote in the poll on the left side of this page.