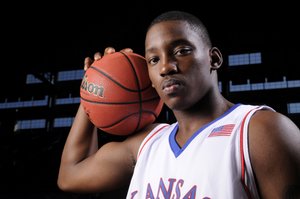 No less an authority than Kansas University basketball coach Bill Self has compared KU newcomer Quintrell Thomas to one of the most beloved former Jayhawks in recent history.
And as touched as Thomas is to be likened to Darnell Jackson, he isn't sure it's the compliment he'd hoped to hear coming off his coach's tongue.
"I'm not likin' this comparison," Thomas said, choosing his words carefully so he wouldn't cast aspersions on Jackson, whose gritty style eventually earned him a three-year contract with the Cleveland Cavaliers. "I mean, it's not bad to be compared to Darnell. He's a great player and all, but I don't want to be compared to him. I don't want to be the next Darnell Jackson. I've got to be myself."
At 6-foot-7, 241 pounds, Thomas is an inch shorter and nine pounds lighter than Jackson was last year. But in Self's analysis, the comparison goes beyond stature.
"(Thomas) is an athletic power forward," Self said. "His offensive game is one that is expanding. He's going to give us an element of toughness, and his defensive rebounding will be something we look to early in his career. He is explosive, a great runner, jumper. He does remind me of Darnell when he first got here."
Thomas' take?
"See, I don't even know what that means," he said.
Told Jackson was considered talented but raw as a rookie, Thomas balked.
"I don't know how to take that," he said. "Is that a compliment?"
Whether Thomas improves like Jackson did remains to be seen, but it would appear he has the potential.
Thomas averaged 14.7 points and 8.5 rebounds as a senior at Saint Patrick High in Elizabeth, N.J., when he was named an all-state and all-county pick. He's big and athletic and has a knack for rebounding.
But Thomas wants to be known for putting the ball in the hole, not just pulling it down.
"Nobody's really a scorer on this team," he said. "There's nobody coach will look to to score a lot. That could be my role. I just need to come in and find my niche."
One of seven KU newcomers, Thomas might have a hard time finding his niche just among the rookies, let alone on a team coming off the national championship. After all, aside from Sherron Collins and Cole Aldrich, only a handful of other Jayhawks even took the court for KU last season, making the preseason a wide-open free-for-all in the quest for playing time.
"Of course, there are going to be critics," Thomas said. "Somebody might not think I'm that good, or somebody else isn't that good. The freshmen, all the freshmen, have to come out and prove ourselves. None of us have big egos. Nobody's hard to get along with. We've come together so well because we're all new players. Nobody's trying to hold onto a spot.
"A lot of people think we're supposed to be good because we're coming off a national championship. A lot of people think we won't be any good because we've got so many freshmen."
Count Thomas in the former camp.
"All I know," he said, "is I want to win. Just win."