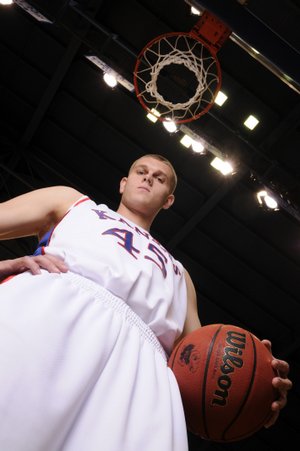 Audio clips
2008 Oct. 31 KU basketball practice
A year ago at this time, Cole Aldrich would look out on the court and discern little more than crimson-and-blue blurs.
"When I got on campus, it was an eye-opener," said Aldrich, Kansas University's 6-foot-11, 245-pound sophomore from Bloomington, Minn. "I didn't know people could run that fast."
Eventually, those blurs resolved themselves into teammates, and Aldrich found he could keep up after all.
"Last year was a big learning experience," he said. "Coming in from high school, I was flustered by the speed of the game. But things started to slow down. Now my whole role has done a 180."
One of several big men last season, Aldrich had the luxury of being brought along slowly.
He played in all 40 games, but never had to play more than 17 minutes in any one of them.
In all, he averaged 8.3 minutes, 2.8 points, 3.0 rebounds and 0.9 blocks per game.
Testament to the massive losses KU suffered to graduation and, especially, the NBA: Aldrich is KU's leading returning rebound and shot-blocker.
"I knew it'd be really tough to get some minutes with those guys, but I learned so much from them," Aldrich said of big men Darnell Jackson, Darrell Arthur and Sasha Kaun. "It's an exciting role to come from. It'll be different, but I'm going into it with an open mind."
He went into his freshman year with an open mind, too, and his frontcourt-mates tried to fill it up. When they weren't pounding on it, that is.
"I'd go to practice every day, trying to get every rebound and block every shot," Aldrich said. "A couple of times I got through practice thinking, 'Wow, would they please stop beating up on me?'"
In fact, once it got so bad Aldrich approached Jackson and asked, half-jokingly, if he'd coast a little.
Jackson's response: no chance.
And now Aldrich is glad Jackson played tough guy.
"Going against those guys, I learned so much," he said. "By the time we got to the tournament, I was prepared for it."
Aldrich showed signs that it was all coming together several times last year.
He scored in double digits just once, when he had 11 points and 11 boards for his first career double-double on March 3 against Texas Tech.
If that was his breakout game, his signature game came later, in the national semifinal against North Carolina.
Butting up against national player of the year Tyler Hansbrough, Aldrich tied his career high with 17 minutes, during which he collected eight points, seven rebounds and a career-best four blocked shots.
"I knew it would be tough going against the player of the year," Aldrich said. "But going against Sasha and Darnell and Shady prepared me for that.
"It definitely gave me confidence. It was a buildup of what I'd worked toward all year."
Now the high-top's on the other foot.
Though he's just a sophomore, Aldrich will be the guy banging on the newcomers, getting them ready when their names are called.
"It's a little weird to say I'm a veteran," Aldrich said with a laugh. "It's really exciting to be a part of this team. We're getting better every day."