Feature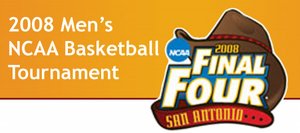 Get your March Madness fix at KUSports.com.
Kaun intense: Sasha Kaun tossed and turned all night.
"I couldn't fall asleep. I was so excited for the game I couldn't calm myself down to go to bed. I finally fell asleep at 3 a.m.," Kaun, Kansas University's senior from Tomsk, Russia, said of Saturday night slumber time leading up to Sunday's Elite Eight game against Davidson.
"I really wanted this game. I wanted it so bad."
Thus, he became the team leader Sunday. He tried to fire up his Jayhawk teammates both on the bus ride to Ford Field and in the locker room before tipoff.
"He was so fired up, I couldn't understand everything he was saying," senior Russell Robinson said.
Kaun, who hit six of six floor shots and one of three free throws, good for 13 points, and collected six rebounds, explained his change of demeanor.
He's normally pretty soft-spoken.
"I tried everything I could to get the team going," Kaun said. "I tried to encourage the guys. I said, 'Let's go guys! Let's go!'"
KU coach Bill Self couldn't have been happier with the effort of Kaun.
"If we're going to give Player of the Game, you give it to Mario (Chalmers) the first half, because Mario carried us when we didn't have any offense, made three or four shots," Self said. "Then you'd give it to Sasha in the second half. I think he's played very, very well for the last three or four weeks. He played well against 'Nova, as well. He had a great tournament."
KU's Kaun, Chalmers and Brandon Rush were joined on the all-regional team by Stephen Curry and Jason Richards. Curry was MVP.
¢
Not a pretty win: The Jayhawks did not have one of their best outings of the season or postseason.
"We were nervous," senior Darnell Jackson said of a game in which KU hit 44.2 percent of its shots. He had nine points and seven boards. "I was so sped up early, making mistakes. Sasha came through for us. He wanted it so bad. I was proud of him stepping up for us."
KU coach Self said he spent much of the game merely encouraging his tight team.
"I said (at timeouts), 'Guys, this is supposed to be fun. We knew they were good. We knew it was going to be a close game. Have fun.'''
¢
Great Final Four: This Final Four will be the first to match all No. 1 seeds: "It might be the best collection of teams they've had at one time. If Davidson had won, it still would have been great - 1, 1, 1 and a 10," Self said.
"It means a lot to us," Chalmers said. "It makes us part of history. We wanted to come in here and be part of history and be part of our first Final Four, and we were able to do that tonight."
¢
Stats, facts: KU is headed to its 13th Final Four and first since 2003. KU is seeking its first national title since 1988. KU won its 35th game, tying the 1986 and '98 teams for most victories in school history.
¢
'Attack the attacker': Davidson College became a national favorite because of its No. 10 seeding, exceptional play of sophomore Stephen Curry and because it has a coach, Bob McKillop, who avoids tired basketball cliches and speaks from the heart.
"The sadness of this whole situation is that we can't celebrate the four months of greatness because now we'll reflect upon what finished the season," McKillop said. "My father was a New York City cop. He used to always tell me to polish the backs of your shoes because that's the last thing people see of you."
Davidson took a 25-game winning streak into the game and finished 29-7.
"Attack the attacker," McKillop said of his team's style. "We will not back down from anybody."