Feature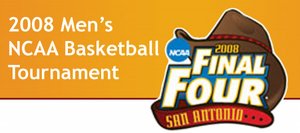 Get your March Madness fix at KUSports.com.
It was like game day all over again. An estimated 6,000 fans waited for several hours to welcome the Kansas University men's basketball team to Allen Field House, following their Elite Eight victory over Davidson. Despite a party that lasted throughout the evening on Massachusetts Street, the fans were enthusiastic until the very end.
Members of the team, as well as head coach Bill Self, addressed the crowd when they finally made it to the field house.
Fans watched a replay of the game while the team landed at Topeka's Forbes Field and made its way back to Lawrence.
Waving homemade signs and hitting giant beach balls across the stands, the fans cheered loudly as updates about team's journey to the field house were announced.
Lawrence resident John Shackleford and his daughter Jordan, 11, grabbed a seat early, as the stands were just beginning to fill around 10:30 p.m.
When asked why he came, Shackleford replied," Walk 'em on home. Root 'em on to San Antonio. I think this is our year."
KU senior Mark Anderson, Mission Hills, was waiting for his fellow Army ROTC members to arrive.
"I was on Mass. for pretty much the whole time, and everyone was pretty excited," he said. "I just want to see the team and let them know we're really excited."
Anderson said the ROTC canceled this morning's 6 a.m. fitness exercises.
"We think people would do better cheering on the team," said Anderson, who is the cadet battalion commander.
As the team got closer to campus, videos featuring the history of KU basketball, as well as productions used to pump up the team before games, were shown on the arena's scoreboard.
A deafening and prolonged roar greeted the Jayhawks as they walked onto the court. Sherron Collins and Russell Robinson wore nets cut from the hoops at Detroit's Ford Field around their necks.
Self spoke first, asking the crowd, "Are these guys studs, or what?"
He thanked the fans for their dedication throughout the season, and praised them for their support.
"As much as you appreciate us, know that we appreciate you also," he said.
Self thanked the team's seniors for their leadership, and said he hoped many KU fans will make the trek to San Antonio for the Final Four, which begins next Saturday.
Senior Sasha Kahn took the microphone from Self, but waited until chants of "Sa-sha! Sa-sha!" subsided before saying, "This is proof we have the greatest fans in the country."
Senior Russell Robinson apologized for making fans nervous during the close game, which KU won 59-57.
"We're very happy to be here right now. Just know that we're not satisfied," he said. "We'll see you guys in San Antonio."