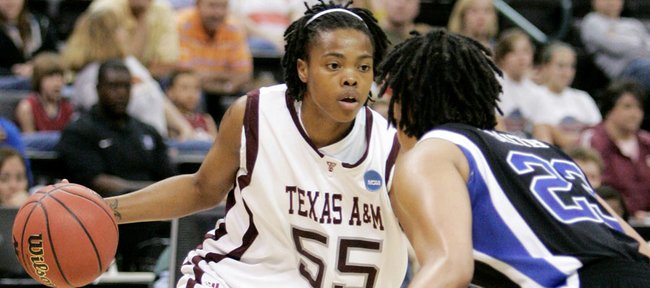 Danielle Gant was dehydrated and out of the game, and Texas A&M; coach Gary Blair was sick about it. The rest of the Aggies made them feel better by advancing to their first regional final.
In Gant's absence, Patrice Reado had all of her 17 points and eight rebounds in the second half, and point guard A'Quonesia Franklin hit three three-pointers during a critical stretch, lifting Texas A&M; past Duke, 77-63, on Sunday night.
After playing the entire first half, Gant felt off at the half.
"She felt dizzy on the bench. I told (our trainer) if she's dizzy, I'm sick," Blair said.
Takia Starks added 15 points for second-seeded Texas A&M; (29-7), which extended its winning streak to 12 games and will play top-seeded Tennessee on Tuesday for a berth in the Final Four.
The regional final will be the first for Texas A&M;, which is making its fifth NCAA Tournament appearance.
"I've just got a bunch of warriors out there," Blair said. "The defensive effort was outstanding. We didn't come here to just win one ball game. We came here because we earned the right."
Blair said before the game that the Aggies would prefer to keep the score in the 50s or 60s against a high-octane Duke team. Third-seeded Duke (25-10) helped the Aggies with that strategy, committing 19 turnovers and never managing to get into offensive rhythm against a team that led the Big 12 Conference in scoring defense.
"We had eight more turnovers than them in this game," Duke coach Joanne P. McCallie said. "That's an enormous turnaround in offensive possibilities."
Chante Black, who had a career-high 26 points and season-high 13 rebounds in a second-round win over Arizona State, led the Blue Devils with 17 points and 12 rebounds.