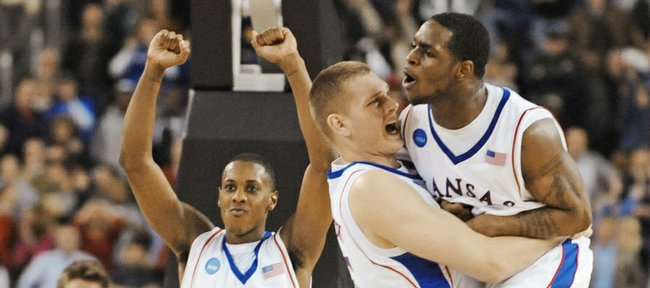 Feature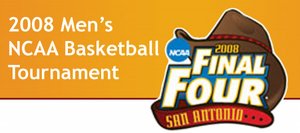 Get your March Madness fix at KUSports.com.
Road to the Final Four
Detroit — Wearing his regional championship hat, jubilant Bill Self searched for, and found, his wife, Cindy, Sunday night on a crowded Ford Field basketball court.
The "best coach never to make the Final Four" planted a big kiss and bear hug on his spouse, as well as his children, Lauren and Tyler, moments after directing No. 1-seeded Kansas University to a 59-57 victory over No. 10 seed Davidson.
It was a huge victory that gave Self his elusive Final Four and his school's first trip to the big show since 2003.
"I can see in their eyes how excited they are," Self, Kansas University's fifth-year coach, said proudly.
"I feel great for the kids, our program, our school and fans : I am a little relieved, though," added Self, who also was embraced by his athletic director, Lew Perkins, who stated over and over, "I'm happy for you, Bill, really happy for you."
Relief was a natural emotion for Self, who had to sweat out a game in which his Jayhawks hit just 44.2 percent of their shots, committed 14 turnovers to Davidson's nine and trailed by four points (51-47) with just 8:55 left.
He couldn't breathe a final sigh until after the final possession - 16.1 seconds of agony, in which Davidson and sophomore phenom Stephen Curry (25 points, 9-of-25 shooting, four of 16 threes) had a chance to throw in a last-second three-point shot that would have kept a Final Four off Self's otherwise impeccable resume.
"We told the guys not to let them shoot a three," Self said, "and if they foul (on a two), make it a good one, don't let them get it up to the basket."
Curry - who had been deemed by many the "face of the NCAA Tournament" - brought the ball up court while being well guarded by Brandon Rush.
Rush slipped 20 feet from the basket with about 10 seconds left, but received immediate help from Mario Chalmers.
A confused Curry dished to Jason Richards, whose 25-footer over Chalmers and Sherron Collins was long enough, but off to the side. The final horn sounded just after the miss.
"Trust me, I was on both knees," Self said of his position in front of the bench when Richards, who misfired on four three-point attempts Sunday, bricked the one that counted the most.
Self didn't say whether he was praying, but did admit, "I think they were on our side tonight," referring jokingly to the basketball gods.
After the miss : "I just wanted to make sure that I hurry up and shake hands and make sure the officials left the court so they wouldn't put more time back on the clock," cracked Self, who could feel a massive monkey hopping off his back. "I thought it was 1,200 pounds - 800 may have been a little light."
He wasn't the only person concerned when Richards (seven points, 3-of-9 shooting with nine assists) released.
"He got the shot off. I thought I was watching a scary movie," senior Darnell Jackson said.
Collins and Chalmers, closest to the shot-launcher, offered their takes:
"I had a feeling in my heart it wasn't going in," Chalmers said, "because the way he shot it. It looked like he was leaning to the left a little bit. The shot kind of faded to the left. When I turned back, I saw it had hit the backboard. I was relieved."
"I was about two feet from him when he shot it. I looked at the clock, and there was no time left. I said, 'Final Four, finally,''' Collins said. "There was a sigh of relief."
And utter joy afterward. The Jayhawks received their title hats and T-shirts, clipped the nets and bolted for the locker room, where Self was last to arrive.
"Coach Self walked in, and I dumped my water bottle on him," senior Darnell Jackson said. "Shady (Darrell Arthur), Chase (Buford) and (Jeremy) Case were in the back and ran up and dumped an ice chest full of water on him.
"Coach was so happy, he teared up like a little baby," Jackson added.
Self didn't mind the shower.
"The guys thought they were at the Orange Bowl," Self quipped. "Coach Mangino (Mark, KU football) didn't get it after we won, so they dumped it on me. It felt good, though."
All the Jayhawks were happy after this one, from Russell Robinson, who didn't score, to Chalmers and Sasha Kaun, who led the way with 13 points apiece on a day points were tough to come by.
Everybody seemed most happy for Self, who finally gets to experience a Final Four. The Jayhawks will meet former KU coach Roy Williams' North Carolina Tar Heels in the second of two games Saturday in San Antonio. KU will play 40 minutes after a 5:07 contest between Memphis and UCLA.
"Coach had been stuck in the Elite Eight for the last few years. This feels good to make that push into the Final Four for him," said Rush, who said he had a "terrible" offensive day with 12 points off 4-of-14 shooting.
"It meant so much to get it for him," noted Kaun, who tried to make sure his teammates were fired up by approaching them one by one on the bus ride to the game and in the locker room.
"I'm really happy for coach, happy for our school."
Self said he was most happy not for himself.
"My family," he said. "My wife lives and dies, that's probably not the best way to put it, not with each game, but each possession. To see the relief on her face, to know how bad she wants it, it means a lot."
And to the fans?
"See you on the Riverwalk!" he beamed after grabbing the microphone and giving a short speech to those crimson-and-blue-clad spectators who remained to cheer during the awards ceremony.
Go figure
25
Points by Davidson standout Stephen Curry
25
Field goals hoisted by Curry (he hit 9 of them)
6
Biggest lead by either team (KU, 43-37, with 12:11 left)
4:56
Time left when KU hit its final field goal
41.7
Davidson's free-throw shooting percentage (5 for 12)
57.1
Kansas' free-throw shooting percentage (8 for 14)
13
Final Four berths for Kansas University
0
Previous times all four No. 1 seeds reached the Final Four