Feature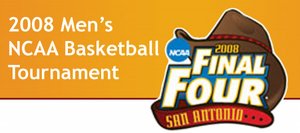 Get your March Madness fix at KUSports.com.
Detroit — One of college basketball's most lethal shooters didn't get the last chance to kill Kansas University.
Davidson College phenom Stephen Curry had to defer the final shot to teammate Jason Richards. The Wildcats' last gasp banked off the glass to secure KU's 59-57 NCAA Tournament victory Sunday at Ford Field.
Kansas moves on to the Final Four. Davidson ends its season with a 29-7 record, and its 25-game winning streak was snapped.
"I thought it was a good look," Richards said. "Felt like it was in. Unfortunately, it missed."
Curry, who finished with 25 points, unconventionally took the ball up the floor with 16.8 seconds left. It seemed obvious to everybody that the sharpshooter would get the last look to tie or win it for the Wildcats.
"It was designed to be a flat ball screen at the top of the key to get penetration," Curry said. "But they had four guards out there, and they just switched. Kind of defeated the purpose of the play.
"I gave them a pump fake to try to get a look, but I was off balance."
Smothered and searching for something, Curry threw it out to Richards at the top of the key. Richards - who finished with seven points and nine assists - chucked up the three-point shot at the buzzer, but banked it off the glass to the left of the rim.
"With the flat ball screen, it's not a guaranteed three," Davidson coach Bob McKillop said. "It gives a lane for penetration or it gives a step back for the three. So we never discussed two or three."
Curry was 9-of-25 shooting on the night and appeared to force some shots in the second half, which is unlike him. Still, he came up big at crucial times, including a three-pointer with 54.5 seconds left that cut the Kansas lead to two.
Thanks to some good defense by the Jayhawks in the closing seconds, it was Curry's final shot of the night. The buzzer-beater instead went to Richards, but his heave at the Final Four came up just short.
"You dream about that stuff when you're a little kid, having the opportunity to win the game and take your team to the Final Four," Richards said. "I had a great look. Steph saw me open at the top of the key. We had a chance to beat Kansas, the No. 1 seed.
"At that point, it seemed like the best shot for us. I felt comfortable taking the shot. Unfortunately, I just missed the shot and fell short."