Feature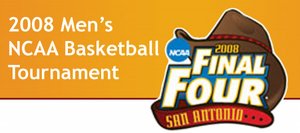 Get your March Madness fix at KUSports.com.
Detroit — Russell Robinson was hot early.
Perhaps more important, he made sure his defensive responsibility, Villanova's Scottie Reynolds, was not.
As a result, the Jayhawks rolled into the Elite Eight with a 72-57 victory over the Wildcats.
"I was more impressed with him defensively than offensively. Russell is playing very well. Not too many guys can make three threes in a row then shoot two airballs," KU coach Bill Self joked. "He's been real focused. The key to the game was his defensive play on Scottie."
Reynolds finished with 11 points on 4-of-13 shooting, but he had just six points in the first half as the Jayhawks bolted to a 41-22 lead.
"I didn't let him get going early," Robinson said. "I tried to take away his offense early."
Robinson, meanwhile, had 13 points off 4-of-4 shooting and 3-for-3 three-point shooting in the first half.
"Russell carried us the first half," said KU's Sherron Collins, who had four points and four assists in 21 minutes. "He did the job on Scottie. Like coach says, he's the heartbeat of our team. We respect him. He did a great job."
KU's guards were effective in breaking open the game.
Robinson (13), Brandon Rush (11) and Mario Chalmers (8) combined for 32 points the first half.
Even seldom-used guard Jeremy Case, who was playing at the end of the half to protect Chalmers, Rush and ailing Collins, who had two fouls apiece, got into the act, hitting a three-pointer to close the first-half scoring.
Case had more points the first half than any of KU's big men. Darrell Arthur, Sasha Kaun and Darnell Jackson had two points apiece. Arthur played just nine minutes with his two fouls.
"Jeremy played well. I'm really happy for him. He gave us a lift," Self said. "He waited five years for that one possession. It was a big shot. He gave us some great minutes."
Rush finished with 16 points, Robinson 15 and Chalmers 14 for KU. Reynolds' 11 led the Wildcats.
The second half was not a thing of beauty, though the Wildcats, who were down by as many as 21, never sliced the gap below 12.
Road to the Final Four