Feature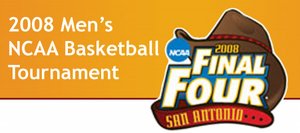 Get your March Madness fix at KUSports.com.
From now on, picking all four No. 1 seeds to advance to the Final Four in your NCAA bracket isn't foolishness. San Antonio is playing host to history, as all the top seeds - North Carolina, UCLA, Memphis and Kansas - advanced to the semifinals for the first time. Three No. 1 seeds had made it three times before (1993, 1997 and 1999). The previous best total of seeds came in 1993, when three No. 1 seeds and a No. 2 qualified.
Keeping with the blue-blooded theme, the 2008 Final Four version features storied programs that combine for 48 Final Four appearances and 17 NCAA titles (UCLA 11, North Carolina 4, Kansas 2). Only Memphis, out of Irving, Texas-based Conference USA, is looking for its first national championship.
UCLA vs. Memphis
Projected winner: UCLA
Memphis
The Tigers are vulnerable. What about their free-throw shooting? What about playing in lowly Conference USA? Uh ... none of that mattered, Memphis and freshman guard Derrick Rose proved, in dismantling Texas, 85-67, on Sunday in Houston. The most-knocked one-loss team probably in history, the Tigers (37-1) and coach John Calipari finally broke through after losing in the Elite Eight the past two seasons. Memphis is in the Final Four for the first time since 1985, though that appearance was later vacated because of rules violations. The Tigers also made it in 1973, losing to UCLA in the championship. Rose, the electrifying Chicagoan, scored 21 points and dished nine assists Sunday. Along with Chris Douglas-Roberts, the C-USA player of the year, the interior presence of Joey Dorsey and the droves of long, strong, athletic Tigers, Memphis has proved many wrong just by making it to San Antonio.
UCLA
Though they weren't always blow-you-away impressive, the Bruins are very much back in the Final Four for the third-straight season after breezing by Xavier, 76-57, Saturday in Phoenix.
The Bruins (35-3) are in their 17th Final Four. UCLA lost to Florida in the championship game in 2006 and fell to Florida in the semifinals last season. Another star freshman leads this team, too, with center Kevin Love scoring 19 points and grabbing 10 rebounds against Xavier. Then there's clutch junior guard Daren Collison (19 points, five assists) and junior forward Luc Richard Mbaha Moute, who had 13 points and 13 rebounds Saturday. Physical, big UCLA, under coach Ben Howland, feels like it has something to prove after leaving the last two Final Fours empty-handed. Despite their record 11 national titles, the Bruins haven't won one since 1995.
North Carolina vs. Kansas
Projected winner: North Carolina
North Carolina
Dad gummit, Roy Williams. This one's going to be hard - playing against the beloved former school that only the Carolina Family could cause him to spurn. At least he'll have these Tar Heels, the top overall seed, and Tyler Hansbrough, who proved in Saturday's 83-73 victory over Louisville in Charlotte why he's many voters' pick for player of the year, and why UNC already plans to retire his jersey.
Hansbrough had 28 points and 13 rebounds Saturday and, as is his trademark, made the plays all over the floor when the Heels (36-2) needed them the most. Hansbrough is averaging 21 points and 9.5 rebounds in the NCAA Tournament. This is UNC's 17th Final Four experience. Williams took the Heels to the title in 2005.
Kansas
They had to survive the amazing Davidson Dream to do it, but the Jayhawks held off the Wildcats, 59-57, Sunday to advance to their 13th Final Four. It's coach Bill Self's first trip to the semifinals, which will help him shed his early-exit tag. Kansas (35-3) is back for the first time since current UNC coach Roy Williams - whom they'll face in the semis - took them to the championship game in 2003 before leaving for Chapel Hill. What a storyline.
The Jayhawks again relied on their balance, with forward Sasha Kaun coming off the bench with the key performance Saturday, scoring 13 points on 6-of-6 shooting. Darrell Arthur will get to play on the game's biggest stage in his home state.
As dominant as Kansas has been, it hasn't won a national title since 1988.