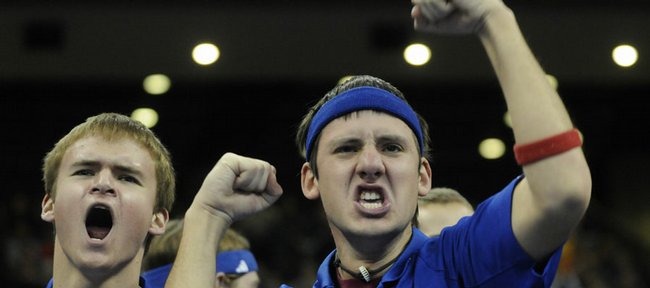 Omaha, Neb. — It's time for Motown.
Kansas University's men's basketball team secured its slot in the Sweet 16 on Saturday, outlasting Nevada-Las Vegas, 75-56, in the NCAA Tournament's second round.
Step two is complete. The Jayhawks are done in Omaha and will head to Detroit later this week, where they will play Friday against the winner of today's second-round matchup between Siena and Villanova.
Win two in Motown, and the Final Four is the final stop.
After Saturday's game, KU coach Bill Self strutted by a pack of television cameras following him to the locker room. He shook his head, grinned and said, "Exhale."
Relief sounds about right. Kansas (33-3) ran into a scrappy team in UNLV, and the Runnin' Rebels (27-8) fought back to within five midway through the second half at 46-41.
But KU's strengths won out. The Jayhawks' depth was key with a startling 46 fouls called. KU's athleticism and length starred on defense and contributed to UNLV missing 33 of 45 shots overall.
In the end, Kansas can exhale. The Jayhawks will play in Michigan for only the third time in their NCAA Tournament history. They lost to Bradley in Auburn Hills, Mich., two years ago, and won two in Pontiac, Mich., in 1988 en route to their last national championship.
The similarities between the 1988 run and KU's present quest are well-documented. Now, the 2008 Jayhawks are inching closer and closer.
"It's good to move on," KU guard Mario Chalmers said, "but we still have four more games to go."