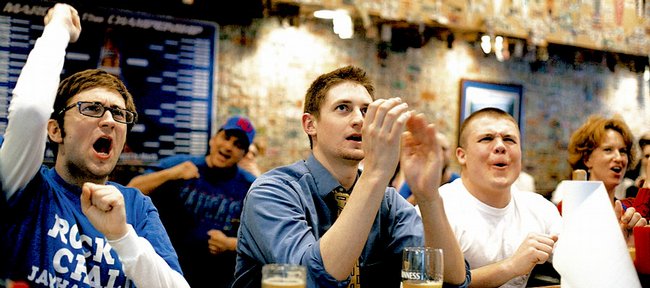 Strategies for filling out an NCAA basketball bracket are about as diverse as the teams playing in the tournament and the fans who love them.
Random picks, height, coaches, Big 12 loyalties and luck make for a March Madness blend that frustrates, excites and unites fans across the country.
"My bracket is golden right now," Travis Amspacker said after KU beat the University of Nevada-Las Vegas 75-56 Saturday night."I couldn't be happier."
The 28-year-old from Lawrence said he has all his selected Elite Eight and Final Four teams left in his bracket.
The key to choosing a winner out of 64 teams? Focus on one bracket or, as Amspacker calls it, "the sheet of integrity."
The lifelong KU fan has another strategy: "You try to pick the best coach."
He keeps his eye on Roy Williams and Bill Self and has KU centered in his bracket to win the national championship.
For first-timers like Trista Pool, 21, of Lawrence, a work pool enticed her to fill out not only one, but two brackets. One with KU winning, one with Texas winning.
"I just chose some teams that looked good, that have won before and that I've watched before - nothing special," she said.
That strategy hasn't proven helpful for her, however.
"All the good teams are losing, like Duke today," she said. "That pretty much wiped me out."
Darren Wesbecker, 19, of Lawrence, decided to choose teams based on last year's upsets, but he said that strategy hasn't worked for him so far this year.
"I'm last in my work pool," he said.
But he can't win any money at his job at the Douglas County Courthouse so nothing's lost on him.
"It's just a guessing game," Wesbecker said. "It's really hard to determine which one's better than the other and how they'll do, because any good team could have an off day and lose versus a bad team."
Then there are those who are just a bit more calculating.
Dave Sedich, a 30-year-old actuary in Lawrence, filled out his bracket on a spreadsheet a coworker created.
"So far, so good," he said.
He looks at advantages a team may have in a match; otherwise, he just goes for teams he likes, namely in the Big 12.
Ngunza Kisangani, a 24-year-old Kansas University senior, who filled out a bracket on ESPN.com, has Texas winning it all.
"It's mainly players and how big their team is too," he said, of how he chooses teams to win.
Texas players such as A.J. Abrams and D.J. Augustin stick out to him because of their height and power, which can equate to three pointers and good defense, he said.
ESPN gives out up to $10,000 for a winning bracket, but Kisangani isn't counting on pocketing any of that.
"I'm not doing so hot," he said. "I don't even want to check it on ESPN.com; it's pretty bad."
Sometimes not filling out a bracket may be the best idea. For the first time in years, Jesse Torneden, manager at Granada, said he decided to opt out in hopes that might bring the KU Jayhawks some luck this year.
After all the calculations, the guesses and a lot of hours spent watching basketball games, Amspacker said it may just be best to "go with your heart."
"I think that's it," he said.