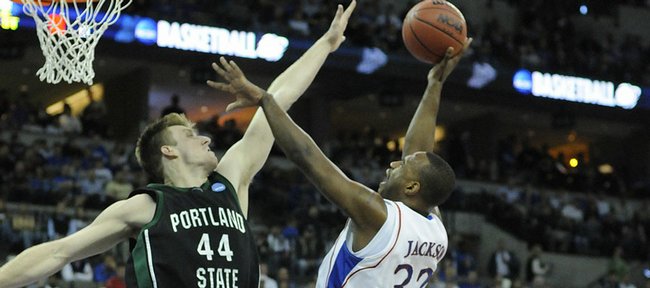 Go figure
64.3KU's first-half field-goal percentage
38.2Portland State's overall field-goal percentage
-1KU's rebounding margin in the first half
+8Kansas' rebounding margin in the second half
3KU's first-half turnovers, leading to just 3 Portland State points
10PSU's first-half turnovers, leading to 17 Kansas points
1Portland State starters to reach double figures in scoring
4Kansas starters to reach double figures in scoring
Omaha, Neb. — It took just one knock on Darnell Jackson's Embassy Suites hotel room door to rouse him out of bed.
"I wasn't sleepy at all," Jackson, Kansas University's senior forward, said, eager to hit the shower at 7 a.m. Thursday after receiving an in-person wake-up call from KU's hard-working team managers.
"I was ready to get up. I think we all were today."
Any concerns about the No. 1-seeded Jayhawks sleep-walking in their 11:25 a.m., first-round NCAA Midwest Regional contest against No. 16-seed Portland State were unfounded Thursday.
KU scored early and often in building a 49-26 halftime lead en route to an 85-61 victory over the Vikings at Qwest Center. KU (32-3) easily advanced to Saturday's 5:50 p.m., second-round game against UNLV (27-7), a 71-58 winner Thursday over Kent State.
"Coach (Bill) Self made sure we were ready. He jumped us early this morning. He told us, 'You guys gotta wake up!'" Jackson exclaimed.
That message came about 10 a.m., in KU's locker room.
Self saved his most passionate words for his official pre-game talk, however.
"There were a lot of nerves," said senior guard Russell Robinson, who held Big Sky Conference MVP Jeremiah Dominguez to just three points the first half off 1-of-5 shooting. "Coach wanted to make sure everyone had energy, to get us pumped up.
"He reminded us of Boot Camp (in preseason) and pretty much all the tough times throughout the season. He reminded us we did all that for this opportunity here. He said, 'Don't pass this opportunity up.'''
Self - his Jayhawks hit eight of 13 threes the first half and 12 of 25 for the game - had a reason for speaking up in the locker room.
"Being a 1 seed is great. A 1 seed will lose (in first round). It will happen. And when it does, it will be one of the intros to the NCAA Tournament until eternity. We didn't want it to be us," Self said.
"I definitely was probably more animated today before the game," he added, "just because it was very early and also, the arena is cold. So early and cold usually lends itself to not great energy. Our energy wasn't fabulous, but it was pretty good."
Sophomore forward Darrell Arthur, who set the tone diving for a loose ball in the opening minutes, scored four points as KU led, 11-3. The Jayhawks were ahead, 24-18, with 9:17 left in the half, but then started clicking courtesy of some dandy outside shooting.
Sherron Collins, who was not 100 percent after bruising his already banged-up right knee at practice Wednesday, had one three, while Brandon Rush hit a five-foot floater, a stickback and a trey in a 12-0 surge that gave KU a 36-18 advantage.
Rush had 15 points the first half off 6-of-11 shooting as the Jayhawks closed on a 25-8 run and led, 49-26, at the break, thanks to 54.1 percent shooting.
"We played great," said Rush, who joked that he "got to sleep in" Thursday, with the managers' loud knock on his door coming at 7:15 a.m. "We played great in the first half. We made shots.
"I made a conscious effort to drive the ball and not just shoot from the outside," added Rush, who made four of nine treys.
Self wasn't as enamored with the second half as the first. KU outscored (23-10) PSU, 36-35, after the break.
"We kind of puttered around," Self said, acknowledging things pretty much were over by halftime.
"I was always told when you wrestle, it's so much easier to wrestle when you are on top," Self explained. "You expend much more energy on the bottom, trying to (escape). It's the same in basketball. You burn more energy when you are behind.
"You cannot let the other team think they can beat you. They never really challenged us in large part (because) we were up early by 10."
Self, who planned to spend Thursday afternoon and evening watching tapes of UNLV and reading assistant coach Joe Dooley's scouting report on the Rebels, acknowledged it'd be a long, but happy, day.
"My wake-up call was 6 a.m. I had to get my workout in," said Self. "I did treadmill today. I don't say this to be disrespectful to Portland State, they have a good team and played very hard, (but) the tournament is starting right now. We're going to have to play better from here on out, especially on the defensive end."