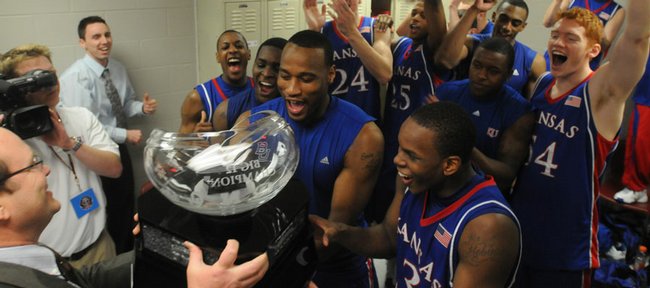 Go figure
12
Texas A&M;'s points in the paint
44
KU's points in the paint
1995-98
Last time Kansas won four straight league titles
7, 0
Assists, turnovers for KU's Sherron Collins
1
Three-point shots made by KU in each half (in 11 total attempts)
11
Steals by the Jayhawks (led by four from Mario Chalmers)
24.1
A&M;'s second-half field-goal percentage
1 or 2
KU's seed for next week's Big 12 tournament
College Station, Texas — Big 12 Commissioner Dan Beebe handed a special piece of hardware to Kansas University's Darnell Jackson and Russell Robinson in a downright giddy visitor's locker room late Saturday afternoon at Reed Arena.
Mobbed by their teammates, the two seniors hoisted the league championship trophy amid a mass of bodies, many of the players holding four fingers in the air while reveling in a 72-55 victory over Texas A&M.;
It's a victory that assured the Jayhawks a piece of their fourth league crown in four seasons.
"It was pretty sweet," KU coach Bill Self said, reflecting on a celebration that included him bear-hugging each player individually.
"I told those guys what I thought of them, which obviously is a lot," added Self, who with just under a minute remaining in the game walked down the KU bench forcibly slapping hands with all of his players and coaches.
"After the Oklahoma State game, if you told me this was going to happen, I'd have had my doubts. A lot of guys are awfully excited right now."
One of the happiest Jayhawks was junior Brandon Rush, who rammed a vicious slam dunk with 2:41 left, giving KU a 15-point lead and putting an exclamation point on the victory that lifted the Jayhawks to 28-3 overall, 13-3 in the Big 12.
"That's our boy. That's that bad boy," Rush said, pointing to the Big 12 title trophy. "That one is ours. Texas can get one, too, if they want."
The Longhorns (12-3 in the league) can claim a share of the crown and the No. 1 seed in the Big 12 tournament by beating Oklahoma State today in Austin, Texas.
That is of no concern to the Jayhawks, who cannot be denied their fourth-straight crown.
"To win four in a row in such a competitive league is a remarkable accomplishment," Self said. "This class continues to amaze me. We'll be judged by our performance in the postseason like all teams, but for those kids to win four rings and a chance to win three conference championships is a remarkable accomplishment."
KU senior guard Russell Robinson, who had 11 points and four assists on a day five KU players scored in double figures, would agree.
"It's real special," Robinson said. "We did it in a tough environment, on the road. Everybody was focused in better than in the past. The energy level was there."
It showed early. Sophomore Darrell Arthur, who said he was especially motivated in trying to bring home a league title ring to strength and conditioning coach Andrea Hudy, whose mom, Mary, died Saturday morning, scored eight points in a 12-3 surge that gave the Jayhawks a 26-18 lead at 5:20.
He scored 12 points and had six boards, while Mario Chalmers had nine in helping KU to a 36-26 halftime margin.
"We played together as a team. We are on an up-tick now," Arthur said after totaling 16 points with nine rebounds in 28 minutes.
He helped hold A&M; big men DeAndre Jordan and Joseph Jones to a combined 12 points. The duo had 14 rebounds; KU outboarded the Aggies, 37-32.
"They are a very good rebounding team, and we won the boards," Self said.
As much as A&M; (22-9, 8-8) struggled in hitting 31.9 percent of its shots and committing 15 turnovers, the Aggies were not put away until a 9-2 surge gave the Jayhawks a 60-46 lead at 6:27.
Robinson had four points, Chalmers three and Rush two free throws in the run.
"We're still first in the league in threee-point percentage over the season and in conference play," Self said, adding, "but we've been inconsistent beyond the arc.
"Mario was the only one who made a shot today," he said of Chalmers, who was 2-for-4 from three, his teammates 0-7. "We will not have a chance to go far in the postseason without better performance from the perimeter."
Yet it was no day to dwell on negatives.
"That was as whole a game as we've played away from home," Self said. "That's the most complete road game we've played."
The result was a day of celebration, and not only for the seniors.
"It was fun. This is something we'll all remember the rest of our lives," freshman Cole Aldrich said after contributing three points and two boards in 14 minutes. "The senior have won four. I hope I can squeeze a few more out of my years. It's hopefully one of many."
Up next is the Big 12 tournament. If KU, as expected, is the No. 2 seed, the Jayhawks would play at 6 p.m. Friday at Sprint Center in Kansas City. If Texas loses today and KU is the No. 1 seed, Kansas would play at 11:30 a.m. Friday. The No. 1 seed plays the winner of Thursday's game between seeds 8 and 9. The No. 2 seed plays either the 7 or 10 seed.