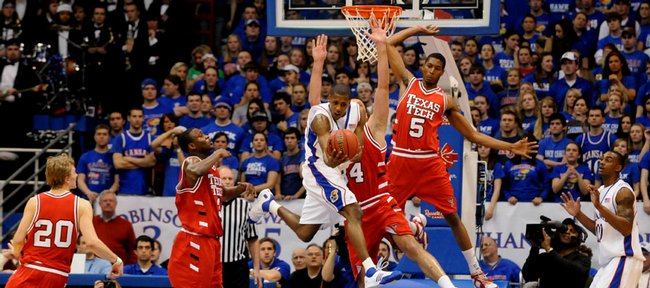 Videos
Senior speeches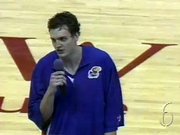 KU seniors Sasha Kaun, Russell Robinson, Rodrick Stewart, Jeremy Case and Darnell Jackson give their senior speeches after the Jayhawks' 109-51 victory over Texas Tech.
Go figure
59.7
KU's field-goal percentage (second best this season)
29.0
Tech's field-goal percentage (second worst by a KU foe this year)
27
Points by which KU outscored Tech from 3-point range
12
Jayhawks with at least 1 assist (for 27 total, on 40 baskets)
+30
KU's rebounding advantage (54 to 24)
7
Rebounds by Tech after halftime
2002
The last time KU scored so many (in a 113-61 rout of Emporia St.)
20-0
KU's record at home (its first undefeated mark since 13-0 in 2001-02)
Pity the team that ventures into Allen Fieldhouse on Kansas University's Senior Night.
"Coach told us last week he didn't think the Lakers could come in and beat us on Senior Night. I agreed with him right away," KU senior guard Russell Robinson said after the Jayhawks' festive - and historic - 109-51 Senior Night rout of Texas Tech on Monday at Allen Fieldhouse.
"I don't think Kobe (Bryant) could have guarded me today. I think Brennan Bechard (walk-on) could have taken Kobe tonight," Robinson added with a big smile.
The Jayhawks' 24th straight Senior Night victory - KU also won its home finale last year with no seniors on the roster - goes down in the books as the most lopsided conference game in school history.
The 58-point margin of victory surpassed last season's 53-pointer over Nebraska. Overall, it tied for the seventh-most lopsided victory in school history and marked Texas Tech's worst defeat in school annals.
"It's the way we wanted to go out, the only way to go out, winning big," said senior Rodrick Stewart, who hit two threes and was one of 15 KU players to score.
"It was so much fun. My threes felt good. Coach said, 'Let it go tonight,' and I did," added Stewart, who helped the Jayhawks to the highest point total in the five-year Bill Self era, topping the 107 points KU scored in its opener against Louisiana-Monroe.
Self, who was laughing about his joke about the Lakers after the game (he realizes 27-3 KU can't beat any NBA team), admits he was near tears before the start of the contest.
"I don't get emotional publicly that often, but I almost choked up before the game," said Self, who started all five seniors.
"I thought that was really cool," he added of fan response to the players and their families. "Those seniors epitomize what we want to be. They are class, work hard, are tough, good performers ... listening to them talk, I told them, 'The writers for Bush, Clinton, McCain, Obama, whomever couldn't have written better speeches for them."
None of the Jayhawks cried during their short three- to five-minute senior speeches after the game, but at least one player had wet eyes before the game.
"You saw that tear? I was trying to fight it," Robinson said of his needing to dry his eyes before the introduction of Darnell Jackson and his parents. "Darnell said, 'Let it out.' It was too hard to keep in, so I had to let it go."
The Jayhawks were so emotional, it took awhile to begin the pounding of the Red Raiders (16-13 overall, 7-8 Big 12), who were coming off a big home victory Saturday against Texas.
The score was 6-all when Self made his first substitution at 16:23. KU led just 30-22 with 6:30 remaining in the half, then went on a 19-2 run to grab a 49-24 advantage at 1:07.
Robinson - who scored 15 points and was 3-for-3 from three-point range on a night KU made 14 of 24 treys - had seven points and Mario Chalmers five of his 11 points in the run.
Eight Jayhawks scored the first half, which ended when Chalmers flipped up an airball from behind his head that Darrell Arthur collected and slammed to give KU a 51-26 lead.
"The seniors : I thought they started out OK, but not great," Self said. "I thought they were dead-tired after three minutes because there was a lot of emotion. Those guys were worked up all day today and yesterday ... thinking about tickets, their speeches. They burned up a lot of energy, but after we got in a groove I thought we played pretty well."
The second half was a highlight-reel effort from the Jayhawks. Senior Jeremy Case hit three three-pointers that brought the loudest cheers of the night. Also, it was a half in which Stewart hit a pair of threes, which brought his dad, Bull, out of his seat in the stands.
"I was most happy for Jeremy. He's been here longer than the rest of us," Jackson said of the fifth-year senior. "Russell, Rod, Jeremy, Sasha (Kaun, 10 points, four boards) : we all wanted to go out on a high note. Senior Night ... it's our last moment on the home court, one we won't ever forget."
Jackson does hope there is another outing in the fieldhouse - a victory celebration down the road.
"We're hoping to come back for some more speeches," he said, reiterating a goal to win the national championship his senior campaign.
KU, which is a half-game ahead of Texas in the league standings, will close the regular season with a 3 p.m. game Saturday at Texas A&M.;