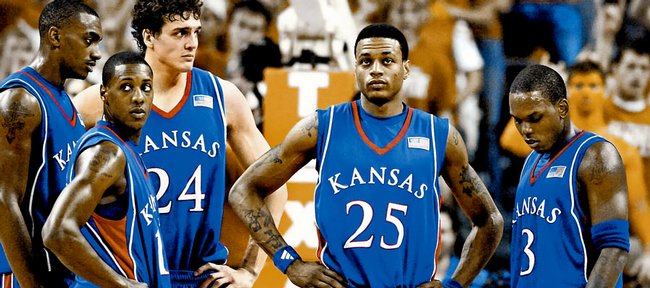 Brandon Rush, who turns 23 on July 7, has been deemed "NBA ready," by so-called experts entering tonight's draft at New York's Madison Square Garden.
Rush, whose brother Kareem plays for the Indiana Pacers, knows exactly what that tag means.
"I've spent three years in college. I've developed my body. I've gotten stronger. I play the type of game they play in the NBA, pick and roll, up-tempo," former Kansas University guard/forward Rush said Wednesday at a pre-draft news conference for possible lottery picks (top 14) at the Westin Times Square Hotel.
The 6-foot-6, 210-pound Kansas City, Mo., native, who left KU after three seasons, realizes he's a safe choice for a team needing a player to contribute immediate minutes. ESPN's Chad Ford said he'll be tapped No. 15 by Phoenix.
"I think I can bring some stuff to the table that teams need, being able to defend and shoot the three," said Rush, who wore a black sports coat and white shirt to the press session.
KU's other two certain first-round draft picks - Darrell Arthur and Mario Chalmers - are in New York for tonight's draft (6 p.m., ESPN) - but did not attend Wednesday's media session.
"I think I probably need to get stronger and keep my body in shape," Rush said. "The NBA season is a long journey."
Rush, who led the national champions in scoring at 13.3 points a game, impressed at his various individual workouts for pro teams. It's said his stock has increased since the national title game.
"I guess because of the type of team we had at Kansas. We were pretty well balanced," Rush said, speculating why he's sometimes overlooked as a scoring threat. "It was a different player stepping up every night. It's kind of hard to really appreciate an individual's skill set. But once you get into an individual workout, you have a chance to shine."
Rush actually wanted to be in New York a year ago for the draft. But an ACL injury forced his return to KU for a third season.
"Going back to school and learning the game, experiencing the whole college atmosphere and going to Kansas, which is a beautiful school, it taught me a lot," Rush said.
So where will he be selected tonight? Rush has heard rumors the New Jersey Nets may want him at No. 10. The Phoenix rumors at 15 remain strong. What about his brother's Pacers team at 11?
"I seriously doubt it because we play the same position," Brandon said. "We'd be battling everyday. It would be pretty funny though."
¢ ESPN's Ford believes Chalmers, a 6-1, 190-pound combo guard who will play point in the NBA, will be selected at No. 12 by Sacramento.
His stock went up after hitting the three-pointer that sent the national title game into overtime.
"I think it made an even bigger name, because people like winners. We proved that we were a winning team," Chalmers said.
He said he doesn't pay attention to mock drafts, even ones that now have him in the lottery.
"I try not to worry about that, because it's other people's opinions, not the GMs," Chalmers said.
¢ Arthur, a 6-9, 225-pound forward, says he's heard he will be tapped anywhere from No. 9 to 20 tonight. Ford says he'll be selected at 18 by Washington.
"I've done as well as I can to hopefully get a spot in the lottery," Arthur said. "I'm anxious. I'm worried and nervous about it, but I'm excited about it, so I'm just going to try to take it all in."
KU's Darnell Jackson and Sasha Kaun are projected as likely second-round picks tonight. There's a chance Russell Robinson could be chosen, as well.