ESPN visit
As part of being a finalist in ESPN's "TitleTown USA" competition, Lawrence is playing host to the sports network Friday. A segment will be filmed at Allen Fieldhouse. The event is free and open to the public.
¢ Doors open at 8 a.m.
¢ Filming begins at 9 a.m. and will conclude by 10 a.m.
¢ Parking is available in Lot 90 on Naismith Drive, across the street from the fieldhouse.
¢ Men's basketball coach Bill Self and several KU basketball players will attend the filming.
To see which cities Lawrence is up against in the "TitleTown USA" competition, visit http://sports.espn.go.com/espn/titletown/index.
Feature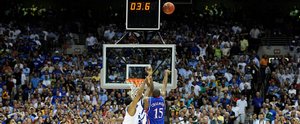 The Lawrence Journal-World looks back at the men's basketball season of 2007-2008, in which the Jayhawks claimed the NCAA championship title for the first time in 20 years and its third ever.
Can Lawrence compete with the likes of Boston, Los Angeles and Detroit?
What about Ann Arbor, Mich., Williamsport, Pa., and Valdosta, Ga.?
ESPN thinks it can, and to prove it, the sports network today named Lawrence a finalist in its "TitleTown USA" competition, which seeks to name the country's top championship city.
With the success of Kansas University's national champion men's basketball team and Orange Bowl-winning football team, Lawrence may well end up triumphing over cities like Boston, which saw its Red Sox, Celtics and Patriots make it to their respective leagues' finals.
ESPN will film a segment at Allen Fieldhouse on Friday, beginning at 9 a.m. It is open to the public. Doors to the event open at 8 a.m., and it will conclude at 10 a.m. Fans should park in Lot 90, across Naismith Drive from the fieldhouse.
Men's basketball coach Bill Self and several players from KU's national championship squad will attend the taping.
Jim Marchiony, KU's associate athletic director, said he hopes for a similar atmosphere as when ESPN's College GameDay program filmed at the fieldhouse in March.
"We're expecting a lot of fans there," he said. "We're one of only 20 cities around the country, so I think our fans will be excited about that."
KU's athletic prowess puts it in some pretty tough company. But Lawrencians are confident that the Jayhawks will trump any Red Wings, Gators or Buckeyes.
Natalie Ciaccio, 30, said the celebration that ensued after KU beat Memphis to take home the national championship was indicative of why Lawrence stands above its competition.
"I've been to Boston and I've partied in New York, and that party (on Massachusetts Street) was a blast," she said.
Matt Needham suggested taking a look at the hundreds of photos of Massachusetts Street celebrations that he keeps on his Web site.
"I think they would know" why Lawrence deserves the title, he said.
But Ciaccio and Isaiah Singer, 18, think Lawrence deserves the title as much for its community as for KU's athletic success.
"I'd ask them if the whole community of Boston is walking around wearing jerseys like me," said Singer, who was wearing a KU basketball jersey.
"You're totally surrounded by people that live and breathe KU," Ciaccio said. "The whole community centers around KU."
Troy Sonderland, 26, a 2005 KU graduate, had a simple message for fans voting for other cities: "Bring it."
Ultimately, it will be up to fans' online votes to crown "TitleTown USA."
Marchiony said that's where the KU spirit needs to come through.
"We just have to show that spirit that we all know exists in Lawrence, and make sure that our fans and all of their friends vote," he said.