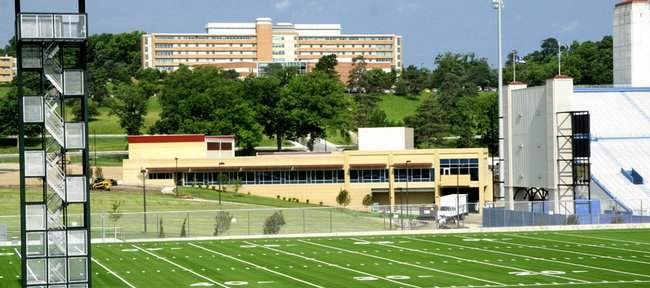 The television sets were delivered the other day - 57 of 'em.
Ranging in size from a piddling 32 inches to a massive 60 (measured diagonally), the flat-screen, high-def plasma wonders remain boxed, waiting to be hung.
But the walls and the wiring and the 57 wall mounts are raised, wired and bolted on as work on the 80,000-square-foot Anderson Family Football Complex - the soon-to-be-home for Kansas University football - screams toward completion.
Where before visitors to the state-of-the-art digs were asked to imagine the complex in all its glory, now they needn't merely imagine. Rather than close their eyes and wonder how the 130-seat auditorium, for example, will look, they now can play with the controls that raise and lower the projector screen from the nearly complete ceiling.
"Overwhelmingly, people have been really positive about it. Current players, recruits, parents : everybody's just been really overwhelmingly positive," said Brad Nachtigal, KU's associate athletics director for capital projects, who estimated the $31 million facility was 90-percent completed.
Contractually, Turner Construction was to have the complex finished by Aug. 1, but Nachtigal said KU's football coaches and support staff should be able to move into their new home by mid-July.
It should be a relatively painless move.
"One of the less challenging aspects of the move is that it's all new equipment," Nachtigal said. "We don't have to move all the old equipment. It's just moving personal items, files."
'It's all very functional'
Even the equipment in the 8,500-square-foot, underground weight room is all new, down to the weights and custom-built workout stations.
The complex is chock-full of shiny new toys, from the functional - like the moveable storage systems throughout - to the wicked-cool - like the SMART Boards on the position meeting-room walls. The interactive whiteboards will allow coaches to diagram plays, then print them out.
But to Nachtigal, the feature that stands out the most is the building's overall functionality.
For instance, the lower level is laid out so players can go directly from the shower to the hydrotherapy area, for instance, from one wet area to another without having to navigate a dry area.
Players needing only to be taped can duck into a taping area without having to negotiate offices or other training-room areas.
An elevator runs directly from just off the loading dock to the lounge set aside for entertaining recruits, so caterers won't have to traipse around the complex with their wares and instead can report directly to the kitchen.
"It's all very well planned out," Nachtigal said. "It's all very functional."
'All the latest and greatest'
While some of the minutiae might be lost on the complex's new inhabitants, some of the niceties can't be missed.
Like the TVs. Six of them will go in the players' locker room. Any guesses where the 60-inch behemoth is headed? (Hint: think reigning national coach of the year).
There also is a players' lounge, with another big screen, video games and, likely, a foosball table.
And there are other nifty touches, like a video-taping tower looming above the new practice fields that is connected directly to the media room for immediate access to practice footage.
"It has all the latest and greatest technology," Nachtigal said.
The complex also features a seven-station computer lab, with room for academic-support staff to help football players with their studies in a sort of satellite academic-support center.
Of course, as nice as it is, the Anderson Family Football Complex won't win a game for the Jayhawks next fall, but it might help them win a battle or two.
Their old facilities had become dated, and coaches groused about time lost shuttling between facilities across campus to the stadium.
Now everything is shiny and new and, just as important, centrally located.
"Until now, when kids were looking at competing schools, they had newer and nicer facilities," Nachtigal said. "Up to this point. I'm sure in the eye of an 18- or 19-year-old kid, that can make a difference. And this certainly can compete with anything in the conference."
A boon to other sports, too?
And the new crib indirectly could help KU's other sports, too.
With football's pending move across campus, Kansas' other sports will get some needed elbow room. The weight room that was open 6 a.m. to 6 p.m. to accommodate 600 student-athletes now only has to find time for 490.
"Most definitely it will help other sports," Nachtigal said. "I'm sure there were weight-room conflicts. And there's 12,000-some-odd additional square feet up there. We're still working with what to do with that. We'll have an additional 12,000-some square feet to work with. That obviously will help other sports, but we don't know exactly what we're going to do with it right now."
There also is one other unresolved issue.
Coach Mark Mangino - he of the 5-foot (measured diagonally) TV and a regular visitor these days to the job site - is known for his closed-door policies. In the past, practices were held in secrecy behind screened fences. Visitors were prohibited.
The new practice fields, however, were sited to the southeast of Memorial Stadium because the ground was level there. But they offer an unobstructed view from the Kansas Union or even Campanile Hill.
"That will be one of (Mangino's) challenges," Nachtigal said. "I'm sure when they want to do something really secret, they'll have to go to the stadium or to Anschutz Pavilion."