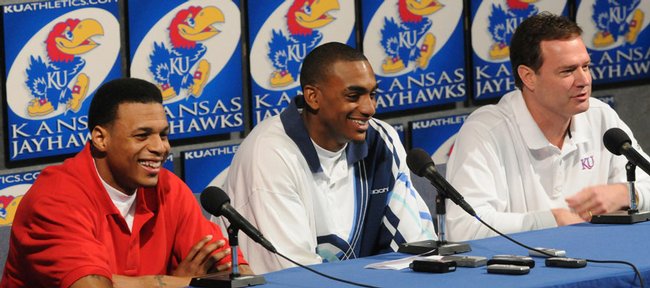 Kansas Men's Basketball
Darrell Arthur was not overly impressed with his play in his first individual workout for an NBA team.
"I don't think I guarded well. I think guys got to the basket on me anytime they wanted to, so I've just got to get back and work out. I know what to expect now. I'm glad I got the first one out of the way," Arthur, Kansas University's 6-foot-9 forward, told northjersey.com after Wednesday's session with the New Jersey Nets.
Nets' general manager Kiki Vandeweghe said Arthur actually had a productive workout.
"He's a very athletic kid. He competed exceptionally well today. He's a good shooter," Vandeweghe told northjersey.com. "You're going to see whether he's going to be a 3 (small forward) or 4 (power forward) in the league. That will determine sort of where he goes in the draft."
If Arthur can prove he's a 3, he'd ostensibly have more value because of his size advantage.
Arthur, who last week said he'd decided to sign with an agent and keep his name in the 2008 NBA Draft, will work out for the Charlotte Bobcats on Friday.
KU's Sasha Kaun worked out for the Indiana Pacers on Wednesday.
"I'm trying to come in and talk to the team's staff and get to know their personality as well as talk to the coach and stuff like that. I've got to show my work ethic on the court," the 6-foot-11 Kaun told Pacers.com.
Kaun will work out for the Portland Trail Blazers on Saturday.
Guard/forward Brandon Rush worked out for the Orlando Magic on Wednesday and will be in Toronto today and New Jersey on Friday. Forward Darnell Jackson will work out in Washington today and Chicago on Friday.
The Associated Press contributed to this report.