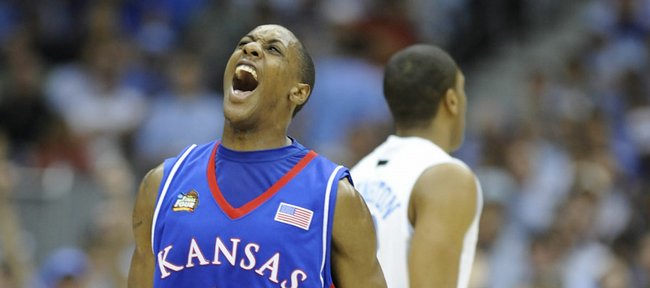 Orlando, Fla. — It has become practically a ritual after each Miami Heat game at the Orlando Pro Summer League.
Mario Chalmers is approached and asked about "the shot."
The rookie guard smiles, recounts his three-pointer that sent the NCAA title game against Memphis into overtime, and then politely excuses himself without making much fuss about Kansas' national championship.
No one bothers to ask Jason Richards, the Heat's other rookie point guard, about his shot.
While Chalmers' one shining moment defined the 2007-08 college basketball season, it can be argued that a Richards flick of the wrist in that same NCAA Tournament had a far greater impact on what has followed.
For those who forget, before Chalmers exulted at the Final Four in San Antonio, he and his Kansas teammates escaped from Detroit.
That's where Richards, Stephen Curry and the upstart Davidson Wildcats nearly pulled off the tournament's ultimate upset in the Midwest Regional final.
Down two points off a timeout with 16.8 seconds to play against the Jayhawks, Davidson looked to Curry for salvation, but ultimately found Richards.
From the right baseline, Richards ran up the sideline and curled toward the center of the court, about 5 feet beyond the three-point circle. The 2007-08 NCAA Division I assist leader, in the ultimate role reversal, wound up taking the pass from Curry.
Shot went up. Buzzer sounded. Shot faded left. Shot was too strong. Kansas 59, Davidson 57.
Just over a week later, Chalmers made what Richards had missed. Three months later, Chalmers was an NBA draft pick; Richards went unselected.
Now they're Heat teammates, Chalmers on a lucrative three-year deal, Richards with a small free-agent payment to guarantee his attendance in the team's offseason workouts.
"I've been thinking of saying to Mario, 'If I made my shot, you wouldn't have made yours,'" said Richards, who seems to have come out of his moment just fine. "I mean, he's a great player. He deserves all the recognition he got. That shot he made against Memphis was tremendous."
Yes, Richards relived the moment of anguish for days, even weeks. But he has let it go, moved on, hopeful of now landing a spot on the Heat training-camp roster.
"It was a great moment in my life," he said, that moment in front of 58,000 at Ford Field still resonant. "It was a great opportunity. I mean, if I made that shot, who knows? Who knows how far we'd have gone? But I didn't. It was a great opportunity for us, and the memories are going to last forever."
The moment also resonates for Chalmers, but in a different way.
"I don't remember what I was feeling when he shot it," he said. "Maybe numb. I was just relieved."
Born into a basketball family, with his parents having both played at Pittsburgh, and with his sister Lindsay an Iowa Hawkeye, Richards appreciates the magnitude of his moment.
"One moment can change your life," he said.
If that shot goes in, Richards possibly emerges as a draft pick, Curry almost certainly trades in a Final Four moment for a spot in the lottery, Kansas perhaps doesn't have five players taken in the draft, and Chalmers very well could slip even beyond the No. 34 overall selection in the second round.
"It definitely changed mine," Richards said, "and changed a lot of people's."
Had there been no Final Four, Chalmers insists he still would have applied for the draft after his junior season.
"It was something that made me tougher, seeing what could have happened," he said. "But I think I would still be here."
Some players never escape such NCAA moments, such as Georgetown's Fred Brown mistakenly passing the ball to North Carolina's James Worthy in the 1982 title game. Others move forward, such as Chris Webber after his call for a timeout that wasn't available in the '93 championship game.
When Richards looks back, it only is with fond memories of how a small North Carolina liberal arts school of 1,700 had an eventual champion on its heels.
"People kind of knew who I was, knew what Davidson was about, but when we made that run and kind of got on a national level, people started to recognize how good we were and what I was capable of as a point guard," he said. "It propelled me into some opportunities in the NBA. It's not something I will ever want to forget."