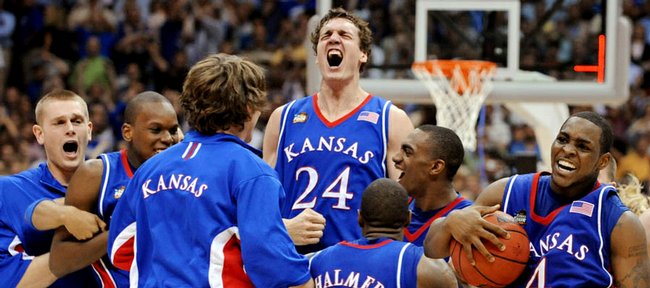 Feature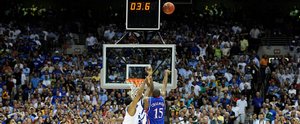 The Lawrence Journal-World looks back at the men's basketball season of 2007-2008, in which the Jayhawks claimed the NCAA championship title for the first time in 20 years and its third ever.
New York — The honors just keep pouring in for Kansas University's men's basketball team.
ESPN announced Tuesday that the Jayhawks are up for sports team of the year honors in the annual ESPY Awards.
KU is up against the Boston Red Sox, New York Giants, Boston Celtics, Detroit Red Wings and Tennessee women's basketball team for the honor.
KU head coach Bill Self and guard Mario Chalmers from the 2008 NCAA national championship team will represent KU at the ESPYs in Los Angeles.
The Kansas-Memphis men's basketball national championship contest - which KU won 75-68 in overtime - is nominated as the best game along with the Super Bowl's Giants over Patriots and the NBA Finals Game 4, Celtics over Lakers. In KU's contest, Chalmers made a three-pointer with 2.1 seconds remaining to send the game into overtime.
Fans determine the winners in 37 categories by voting online or with mobile phones.
The sports awards show will air July 20 on ESPN.
Tiger Woods, Tom Brady, Kobe Bryant and Alex Rodriguez are the contenders for best male athlete. Golfer Lorena Ochoa, basketball player Candace Parker, auto racer Danica Patrick and skier Lindsey Vonn are the finalists for best female athlete.
The ESPYs will be hosted by Justin Timberlake, who will be joined by an all-star lineup of top athletes and entertainers to celebrate the best sports stories of the year.