Feature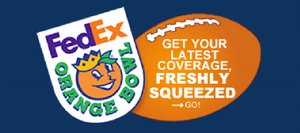 Video, photos, blogs, podcasts, latest news and more!
Feature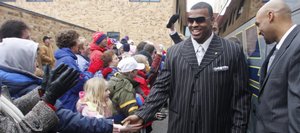 Journal-World KU reporter Jonathan Kealing is covering the fans in and on their way to Miami for the Jayhawks' first ever BCS bowl game. Check out some pitstops and potholes on the way to Miami and keep up with Journal-World Orange Bowl coverage from Miami on our interactive road trip map.
Miami — It was an early warning - albeit an illegal one - that Kansas University was here to win a football game and do so with a little spunk.
Aqib Talib, after jumping in front of a Virginia Tech pass, high-stepped his way into the end zone in the first quarter of KU's 24-21 Orange Bowl victory on Thursday.
It was the end of a 60-yard interception return, and the Deion Sanders-like dance ended up drawing a 15-yard penalty for unsportsmanlike conduct.
Forgive him. After all, that shimmy electrified the KU sideline and showed that the Jayhawks came to Dolphin Stadium with a cocky confidence that no one dared think they should have.
It fueled them. KU, still regarded as a hollow story by some, beat one of the top teams in college football to win the Orange Bowl and finish a remarkable 12-1.
The fairy tale season officially has its storybook ending and its signature victory. Talib christened it by bellowing into the national-television cameras, "I guess they got to say we played somebody now!"
The giddy KU fans, sticking around in the stands, roared with approval.
"It's the greatest day of my life, man," linebacker Joe Mortensen said. "We really worked hard to be here, and we know we deserve to be here, and we showed it today."
Kansas, perhaps out of nowhere, beat Virginia Tech (11-3) at its own defensive game.
Talib's pick put KU up 7-0 and set the tone for a first half dominated by the Jayhawks. Kansas led 17-7 while ZZ Top was performing on the field at halftime.
But it wasn't just Talib. Freshman cornerback Chris Harris picked off a pass that set up a field goal, and Justin Thornton's nifty fourth-quarter pick was returned to the two-yard line and set up KU's final, back-breaking score.
After struggling against Missouri in its lone loss on Nov. 24, KU's defense was itching to show the nation a different look.
"We wanted to redeem ourselves for the show we showed against Missouri," Harris said. "We were so hungry after that game. That was the main thing."
Along the way, key plays surfaced Thursday - some wacky - that showed off the Jayhawks' creativity and just-win-baby attitude in the season's final game.
¢ A fake punt in the third quarter shocked Virginia Tech, as Brandon McAnderson took the snap and hurled a pass to gunner Micah Brown on the left side for 22 yards.
"We watched on tape for about a month of them leaving the gunners exposed," Mangino said. "We said that we're not going to let them do that."
¢ Down 17-14, Virginia Tech had a chance to tie the game in the third quarter. But Joe Mortensen slipped through the line and blocked the 25-yard field-goal attempt cleanly to keep Kansas ahead.
¢ Talib, the Orange Bowl MVP, actually returned a missed field goal 39 yards in the first quarter, giving Kansas a little better field position.
¢ McAnderson bullied his way within one yard of the end zone to get the final first down of the game with less than a minute to go. On the final play, KU quarterback Todd Reesing kneeled down, stood up and flung the football 30 feet in the air in celebration.
Soon after, Kansas players were dancing on a makeshift stage near the corner where KU fans were going nuts. The Rock Chalk Chant was as loud as ever.
Of course, this wasn't a game-long celebration. Virginia Tech (11-3) scraped its way back into the contest, getting within three when a reverse punt return was taken 84 yards to the house by Justin Harper just after halftime.
Kansas lost the momentum for a good quarter before Thornton's pick took it back. The Jayhawks went up 10 on a Reesing touchdown run with 10:57 left.
Virginia Tech added a score with 3:00 to go, but Raimond Pendleton recovered the onside kick, and Virginia Tech never regained possession.
So the party began. Players launched oranges into the KU student section, and hats and shirts were passed out to all the Jayhawks. The locker room was just as chaotic.
But it was Talib symbolically smacking the critics on national television that seemed to speak for the entire team.
"All season long, they've been saying, 'Who have they played? Who have they beat?'" defensive end Russell Brorsen said. "Tonight, we beat someone."
Go figure
3
Interceptions by the Jayhawks
17
Points scored by KU off those interceptions
1
Interceptions by the Hokies
0
Points scored by the Hokies off that interception
5-32
Sacks-yards by the Jayhawks
4-24
Sacks-yards by the Hokies
50.0
Average for five punts by the Jayhawks
38.6
Average for five punts by the Hokies
Game balls and gassers
Candidates for Game balls
¢ Aqib Talib not only returned an interception for a touchdown, he gained more yards (17) on his first punt return of the game than Anthony Webb gained in 19 punt returns.
¢ Justin Thornton intercepted a pass and returned it to the Virginia Tech three-yard line, setting up a Todd Reesing touchdown that put Kansas up, 24-14, in the fourth quarter.
¢ Joe Mortensen blocked a field goal that would have tied the score, 17-17, and sacked Tyrod Taylor on a first-quarter play on the play after Russell Brorsen had a sack. The back-to-back sacks set up a third-and-29 for the Hokies.
Candidate for Gassers
¢ Ryan Cantrell was flagged for a 15-yard personal foul when Kansas had the ball at the 1, damaging a series that ended in an interception.