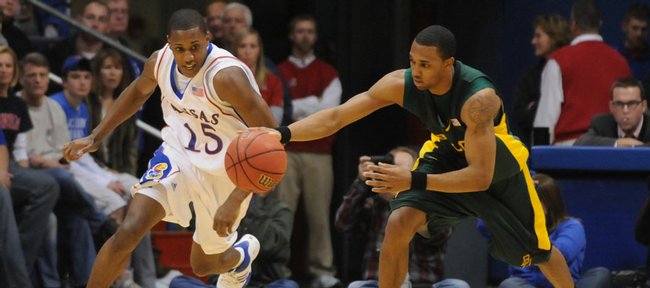 Go figure
0
Three-pointers made by the Jayhawks (in nine attempts)
271
Consecutive games back KU had hit at least one trey (dating to 2000)
12
Three-pointers made by the Bears
22
Points by which KU outscored Baylor from the free-throw line
39.4
KU's first-half field-goal percentage
63.3
KU's second-half field-goal percentage
135
Field-goal attempts by both teams combined
32
Field goals by each team (KU was 32-for-63, Baylor 32-for-72)
If Darrell Arthur had not seen it with his own eyes, there's no way he'd have believed it.
Somehow, Kansas University's fast-breaking basketball team scored 100 points against Baylor on Saturday night without hitting a single three-pointer.
"It's very surprising. It's like playing in the old days without the three-point line," Arthur said after blitzing the Bears for 23 points off 8-of-14 shooting in the Jayhawks' 100-90 victory at Allen Fieldhouse.
For the record, the Jayhawks - who scored 64 points the second half in busting open a 36-33 game - hit 32 of 63 shots, misfiring on nine three-point attempts. Baylor made 12 threes in 29 attempts.
"It's probably happened before," KU coach Bill Self said, "but not often."
Yes, coach, it has happened before.
KU three times in school history has scored 100 points without a three-point make. Last time was an 100-67 victory over Howard in the first round of the 1992 NCAA Tournament. KU missed six treys in Dayton, Ohio.
The only other time was the first year of the three-point shot. KU didn't attempt a three in an 110-70 victory over Rider on Dec. 12, 1987, at Allen, the year KU won the national title.
"We got what we wanted. They got what they wanted, but we got the win," 6-foot-9 sophomore Arthur said after the Jayhawks' first game without a three-point basket since an 68-54 loss to Texas on Feb. 28, 2000, in Austin, when KU was 0-for-8.
"It was an up-and-down game, fast-paced. Those guards can really play, on both sides. It was a fun game," Arthur added.
BU's Curtis Jerrells scored 30 points off 11-of-21 shooting. He hit four of eight threes, including one way off balance and another to bust an early 20-20 deadlock.
LaceDarius Dunn scored 23 points. He made five of 10 threes.
And Henry Dugat cashed 15 points off 6-of-13 shooting, canning just one of three threes.
Aaron Bruce was limited to seven points in 18 minutes.
As far as KU's guards, Russell Robinson scored a season-high 22 points. He made 14 of 15 free throws. And Sherron Collins hit for 17 points, including 13 the final half.
Collins had four points and an assist in perhaps the key stretch of the game, a 6-0 spurt that turned a 61-56 lead into double digits at 67-56 with 7:55 to play.
BU did cut it to eight points at 69-61, but was immediately rebuffed by guard Mario Chalmers, who hit a bank shot, and Arthur, who hit a deep jumper to extend the lead back to 12 at 6:21. KU held its double-digit lead until Dunn's two free throws cut it to eight at :52, much too late for Baylor to pull off the upset.
"They are good," Self said of Baylor. "Not only are they fast, but they made shots (44.4 percent to KU's 50.8). I think in the last three minutes, they scored 20 points. Obviously, we have some concerns defensively with our guards, and they certainly have a talented group."
Offensively, Self noted, the Jayhawk guards were "terrific."
"Russell had a terrific game, and he's tired. He had to chase Jerrells around the whole night," Self said. "Sherron was Sherron. He changed the game in the second half. When Sherron puts his head down, he is running downhill. He's pretty fast and got some easy baskets. We shot 62 percent the second half and 26-of-32 from the line. That is pretty efficient offense."
As far as individual stars, it might be hard to beat Arthur, who had 16 points the second half off 5-of-6 shooting and 6-of-7 free-throwing. He had six rebounds the second half and 10 for the game.
The Dallas native admittedly was fired up playing Baylor, a school that at one point thought it had landed him in recruiting. Arthur chose KU over BU and LSU after having a dream.
"Probably, they probably do," Arthur said with a grin, asked if his BU buddies, including high school teammate Kevin Rogers, now consider him a "nightmare."
"There was a lot of talking back and forth. Kevin and I (who guarded each other) didn't talk much. I talked with Curtis and Henry. It was really a lot of fun."
Arthur made sure he didn't get too enthused for the game versus BU.
"I was excited about the game, but tried to stay level-headed. Russell and some other guys tell me to not get too keyed up," Arthur said. "I have to take it like any other game."
Now he'll be headed to his home state for Monday's 8 p.m. clash against Texas, a team he followed as a youth.
"I'm more of a Texas football fan," he said with a grin. "But they're really good (in basketball), too."
KU improved to 23-1 overall and 8-1 in the league. Baylor is 17-5, 5-3. Texas, an overtime winner over Iowa State, is 19-4, 6-2.