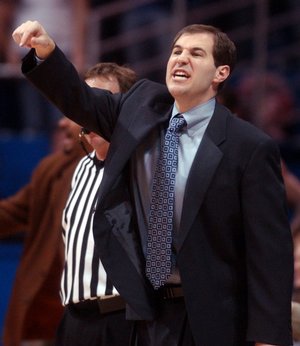 No need to rehash the sad, sorry details that led to the firing of Dave Bliss at Baylor University.
What's important now ... in the eyes of Baylor basketball fans and those around the Big 12 is the fact BU now has one of the top teams in the league five years into the Scott Drew era.
Drew, who battled NCAA sanctions for recruiting violations committed in the four-year Bliss era - a tenure that included the shooting death of a BU player and the loss of several players to transfer - went 12-52 in his first four years at the Waco, Texas school.
This season, the Bears take a 17-4 record (5-2 in the Big 12) into today's 7 p.m. clash against Kansas University at Allen Fieldhouse.
"Players, reading the 'Book of Job' and having great mentors," modest BU coach Drew said, rattling off some reasons for his success at Baylor.
This year's accomplishments include ...
¢ Most nonconference victories in school history (12), including a win at South Carolina on Dec. 19 that snapped Baylor's 25-game road losing streak.
¢ First AP Top 25 ranking since 1969 and first back-to-back weekly rankings in school history (Jan. 21 and 28).
¢ First 16-2 start since 1946 and first 4-0 start in the league since 1998.
¢ First eight-team tournament title since 1968 (Paradise Jam victories over Wichita State, Notre Dame and Winthrop).
¢ First win against a ranked opponent since 2003. That would be the Bears' 116-110 five-overtime victory over No. 16 Texas A&M; on Jan. 23 in College Station.
Obviously that's the game of the year in the league, if not the best game in the history of the conference.
"Coach (Jerome) Tang nudged me and said, 'If we foul out one more, do I get to play?''' Drew said in a recent interview with ESPN radio. Five Bears and three Aggies fouled out in the 31â2-hour game. "It was one of those storybook endings and a great one for the Bears to win at the end."
Drew was thrilled at what happened a few hours after the grueling victory.
"It was 1:30, 2 a.m. and several students were out in the rain waiting for us," Drew said of a welcome-home reception on campus. "It's great as a coach to see a community and students at the university so happy. They had so many lean years here. To reward them brings a smile to a coach's face, I'll tell you that."
A balanced team, BU is led by Curtis Jerrells, who averages 14.4 points a game. Kevin Rogers is next at 12.6, followed by LaceDarius Dunn (11.9), Henry Dugat (11.4) and Aaron Bruce (10.7).
"You can't focus on anything except, 'This is what needs to be done,''' Drew said of his philosophy in building a program. "It's an every-day process bringing in players we felt could compete in the Big 12 and represent the Big 12. Once players start coming, they make the coach look at lot better."
KU coach Bill Self has been impressed with the Bears' play and Drew's recruiting.
"They've been close and their talent level just keeps getting better," Self said. "Their staff has done a great job recruiting. They started from scratch for the most part.
"It's not an overnight deal. It's a good story. It rivals some of the best stories (in the history of basketball)," Self added.
¢ Teammates: Rogers, a 6-foot-9, 240-pound junior, is a former teammate of Darrell Arthur at Dallas' South Oak Cliff High.
"I talk to him on the phone, not a lot," Arthur said of Rogers, who averages 12.6 points and 7.8 rebounds. Rogers has made 51.5 percent of his shots and 79.4 percent of his free throws. He had 19 points and 18 rebounds in the five-OT game at A&M.; Guard Curtis Jerrells led the Bears with 36 points that night.
"He said they are good. Their guard play is a lot better," added Arthur, who was recruited by Baylor.
"I saw it a little bit," he said of BU becoming a league contender and team worthy of NCAA Tournament consideration. "They had some good players there. They've brought in some more. They have good coaches and players and have come along well."
¢ Road warriors: BU is 4-1 away from home this season. In conference road play, the Bears have won at Nebraska and Texas A&M; and lost at Texas.
"They are winning on the road. I'm sure their confidence is sky high because of that," KU coach Self said.
¢ Stats, facts: KU will honor 33 new Hall of Fame inductees at tonight's game. There will be a ceremony at 11 a.m. today at the Booth Hall of Athletics. A list of all inductees is available today on Scoreboard page ... A win today would mark 23 wins for KU for 19 straight seasons dating to 1988-89. ... KU leads the series 12-1, including a 7-0 advantage in Lawrence. KU has won six straight in the series. ... KU is 10-1 against Baylor since the beginning of the Big 12.