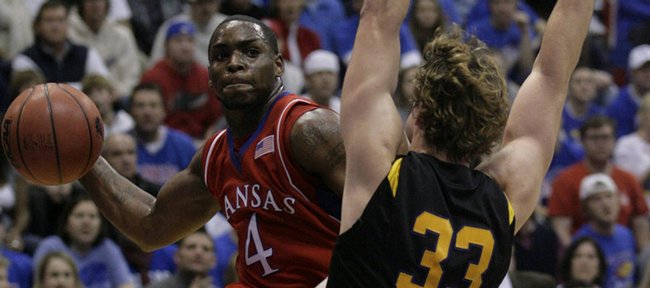 It wasn't nearly as dramatic as February's team meeting at Henry T's Bar and Grill. You remember — the one held after Kansas University's disappointing one-point men's basketball loss at Oklahoma State.
Hot wings and turkey club sandwiches were nowhere to be found as KU's players lounged in the locker room before Saturday's practice in Allen Fieldhouse, the Jayhawks' first workout following a three-day Christmas vacation.
"We gathered in the locker room and said, 'You know what? We didn't play well against Arizona at all. Let's not have this happen again,''' KU sophomore center Cole Aldrich said of a short, yet effective, players-only chit-chat.
"With four or five tough games coming up, we decided we needed to be focused and have good practices. We did that. Now we have to keep it up," Aldrich added.
He bounced back from a 10-point, four-rebound effort in KU's 17-point loss at Arizona with a stellar 20-point, six-rebound, three-block performance in Tuesday's 79-43 bounceback victory over Albany in Allen Fieldhouse.
The competition was not Arizona.
Still, it was a nice effort from the 6-foot-11, 245-pounder, who hit eight of 10 shots and four of four free throws.
The Bloomington, Minn., native scored his team's first 10 points of the second half in helping the Jayhawks (9-3) bury the Great Danes (8-5).
How much did Aldrich think about the Arizona loss over the Christmas furlough?
"A lot," Aldrich said. "The first possession of the Arizona game, I let him (Jordan Hill) beat me baseline and dunk it. That kind of set the tone for my play. The guys on our team tried to pick me up. It wasn't there for some reason. I need to do what it takes every day at practice to make sure that doesn't happen again."
Tyrel Reed — who hit three of five threes and had 12 points on a night KU made nine of 19 treys to Albany's zero for 15 — was happy to see his roommate and the team bounce back in fine fashion.
"I thought Cole played really well. The guards did a better job of getting him the ball," Reed said, also citing Saturday's locker-room gab-fest as a key to KU's improved play.
"It was just players, no coaches, sitting around talking. We realize we had bad possessions at Arizona, ones we can't have. We can't let that happen again," Reed said. "We've had more energy at practice since we came back from break."
KU received solid production from some unsung players.
Travis Releford scored seven points with four rebounds in 14 minutes, and Quintrell Thomas scored six points with five boards in 15 minutes.
"Tyrel, Travis and Quintrell were probably as good of performers (as) we had in the game, and they came off the bench," KU coach Bill Self said. "The starters didn't play nearly as many minutes tonight other than Sherron (Collins, seven points, four assists, five turnovers, 30 minutes), and he only took five shots."
Self was dismayed the Jayhawks tied Albany, 34-34, in rebounds.
"They got 11 offensive rebounds the first half (18 to KU's eight for the game)," Self said. "I think six were out-of-bounds deflections, but we still have to do a better job than that. We made many bone-headed plays, but we made shots (56.3 percent to Albany's 30) and were fairly efficient."
KU had some highlight-film plays in erasing memories of the Arizona loss.
Aldrich's three blocks were vicious.
Releford had a nice dunk off a feed from Collins and closed the first half with a layup off another dish from KU's combo guard.
Also, Marcus Morris put down a nasty one-hand slam with 6:19 left.
"It was all right," Morris said of his dunk. "Coach (Danny) Manning said, 'You've been lacking in practice. I guess you really can jump.'"
There were lots of smiles Tuesday, in contrast to the frowns after the loss to 'Zona. Next up is Saturday's 1 p.m. home game against rugged Tennessee.
"We haven't been talking about it until now," Aldrich said. "It should be a lot of fun. We know they have a great team."
"We've got to improve. They'll be the fastest team we've played so far," Self said. "It should be a fun game. I'd think the building will be juiced."
NOTES
• Perry Ellis, a 6-foot-8 freshman forward from Wichita Heights High School, attended Tuesday's game and sat behind the KU bench with his Heights teammates.
• KU will take a 31-game fieldhouse win streak into Saturday's Tennessee game.
• Reed's 12 points tied a career high. Marcus Morris hit the first three of his college career in three tries.
• Albany's 43 points were fewest by a KU foe since KU beat Detroit, 63-43, in December of 2006. The last KU foe to not hit a three was Missouri last February.