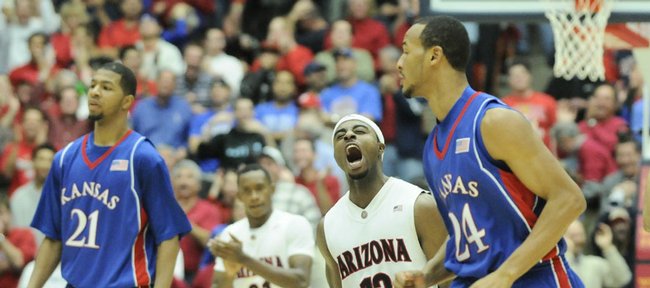 KU vs. Arizona
Reader poll
Markieff Morris

10%

8 votes

Brady Morningstar

68%

55 votes

Marcus Morris

6%

5 votes

Tyshawn Taylor

11%

9 votes

Other

3%

3 votes
80 total votes.
Past Event
Tuesday, December 23, 2008, 9:30 p.m.
McKale Center, 1721 E. Enke Dr., Tucson, AZ
All ages
Reader poll
Travis Releford

15%

13 votes

Brady Morningstar

40%

33 votes

Marcus Morris

10%

9 votes

Markieff Morris

3%

3 votes

Tyshawn Taylor

20%

17 votes

Tyrel Reed

3%

3 votes

I'd play a zone

4%

4 votes
82 total votes.
Kansas scoring
Collins 16, Marcus Morris 12, Aldrich 10, Taylor 9, Morningstar 8, Markieff Morris 7, Reed 3, Releford 2.
UA 84/KU 67 — FINAL
Two free throws from Aldrich, but KU once again can't get an defensive rebound. The Wildcats burn a full minute off the clock.
With 1:04 left, Collins goes to the bench, mouthpiece hanging halfway outside his mouth.
Horne gets a slam on a follow with 9.7 seconds left to wrap up Arizona's dominant second-half performance.
UA 81/KU 64 — 3:15 left in game
Collins penetrates into the lane, then gets a jumper to fall.
KU has no answer for Hill on the other end, though, as he gets another offensive rebound and stickback for two.
Aldrich hits one free throw after getting bumped by Budinger.
Hill gets two more inside over a sleeping Aldrich. Aldrich gets his two back on the other end on a lob from Taylor.
Budinger gets a bailout call on an out-of-control drive, then hits both of his free throws. Marcus Morris follows with a layup, but KU can't afford to trade baskets.
UA 69/KU 57 — 7:53 left in game
Wise gets Collins in the air and gets the officials to blow the whistle. Wise makes both free throws.
KU earns its two, as Markieff Morris hits a cutting Releford for a finger roll.
Horne gets fouled, and he makes a free throw. KU can't foul if it wants to get back in this one.
Taylor gets two free throws after getting hacked on his way to the hoop.
Two more free throws for Fogg after an offensive rebound. He makes both.
UA 64/KU 53 — 9:30 left in game
Arizona's getting all the bounces. After two more free throws (KU has nine fouls to UA's three as of now), Wise tries a crossover dribble that hits off Collins and comes right back to him. He lays it in for two, and Self calls his final timeout.
Collins swishes a three from the top to stop a KU scoring drought.
UA 59/KU 50 — 11:05 left in game
Following a travel by Collins, Kyle Fogg puts in a two with a foul. He misses the free throw, but Arizona gets the ball out of bounds.
Hill gets away with a charge and puts in a two to put the Wildcats up two. Self is furious, and he finally calls timeout to step on the court and chew one of the officials. He needs to be careful, as he's walking a thin line once again.
After a KU miss, Markieff Morris gets a phantom call while playing D on Hill. The UA big man hits one of two free throws.
Morningstar misses an easy two after getting an offensive rebound. Later, Collins forces up a three from the corner that misses. KU looks like a team sped up out there.
KU gets beat deep after pressing, and Taylor fouls Wise on the way up for a shot. Wise hits both, and the Wildcats are on a 7-0 run.
Reed throws the ball away, and Fogg gets two and a foul (even though Taylor ran right by him and didn't even touch him). The Jayhawks and the officials are both getting overwhelmed by the crowd right now. Fogg hits the free throw.
KU gets the ball inside, and Aldrich is fouled by Hill on his way up. Aldrich makes one freebie.
Hill gets two more inside after getting an offensive board.
Collins goes under the basket, but Budinger slams down a one-handed dunk in transition for his first points. Add another questionable foul call, and he'll be shooting a free throw after the break.
KU 47/UA 45 — 15:23 left in game
Horne gets a tip-in, but Collins quiets the crowd with a three from the wing.
Hill puts in a jumper. He's 7-for-17 from the floor.
At the media timeout, Markieff walks to the bench grabbing the back of his left leg. Looks like it could be leg cramps.
KU 44/UA 41 — 16:45 left in game
Lob play to start the second half, and Aldrich slams home a low throw from Collins. KU's probably had as many lobs tonight as it's had in the other 10 games combined.
Collins gets a three from the wing, then follows a steal. After missing the fast-break layup, Taylor gets fouled on the follow, but only makes one of two free throws. Still, it's a 6-0 run for the Jayhawks to start the half.
Kyle Fogg gets loose underneath for an easy two on an inbounds play to stop the spurt.
Morningstar misses a three, and Hill throws down a slam in transition. Timeout KU, as UA has put in six straight points.
Kansas scoring
Marcus Morris 10, Morningstar 8, Markieff Morris 7, Taylor 6, Collins 3, Reed 3, Aldrich 1.
KU was 13-for-30 (43 percent), while UA was 14-for-32 (44 percent). KU made 6 of 13 threes (46 percent), while the Wildcats went 2-for-7 (29 percent) from deep.
Arizona's Chase Budinger was held scoreless in the first half on 0-for-4 shooting.
Some thoughts:
• KU has passed the ball better tonight than it has all year. The Jayhawks have gotten the ball inside at will and gotten some great looks for both the Morrises. Somehow, Aldrich hasn't been able to benefit from this.
• Speaking of the twins, who put springs in their sneakers tonight? They've been talking for a while about getting their legs under them, but they look like different players tonight. They've been playing above the rim, trying to dunk anything they can get their hands on. The other benefit is, when they've tried to dunk it, they've also created a number of foul calls simply by going up strong.
• You've got to hand it to Morningstar: this makes two straight games where he has frustrated a future NBA player on defense. Even without Mario Little, KU has found someone that can defend the other team's small forward, no matter how tall he is.
• Collins has three points, Aldrich has one and Budinger has none. I would guess the first player to get going in the second half will most likely lead his team to a win.
KU 38/UA 35 — Halftime
KU slices the zone once again, and Morningstar hits his second three. He's leading Budinger in scoring, 8-0, for those of you keeping track at home.
Nic Wise drives all the way to the basket for two, and Self calls timeout. KU has played well but is only up 34-33. Collins has just three points, while Aldrich has none at this point.
Out of the break, KU puts together a pair of crisp passes to get Aldrich a look inside. He gets fouled and makes the second of two free throws.
Collins forces up a long, long three with plenty of time left in the shot clock, and it barely draws iron. Hill gets two in transition to tie it at 35.
KU once again works the ball inside, and Markieff gets fouled as he explodes up for a dunk attempt. He makes one of two free throws.
Following a steal, Marcus Morris tries his own dunk inside, and he's fouled. He makes both free throws.
Taylor is bumped with just 2.6 seconds left, but he misses the front end of a one-and-one. KU takes a three-point lead into half.
KU 31/UA 28 — 3:49 left in 1st half
Marcus Morris hits a pair of free throws, and after a Hill airball, KU takes over because of a shot-clock violation.
Collins drains a three from the side, holding his follow-through in the air for a few seconds.
KU has had some trouble on the defensive boards early, and Horne gets two more on a stickback.
Marcus continues his best game as a Jayhawk, though, grabbing a Morningstar miss before putting it back in for two. Timeout UA, as KU leads 29-21.
KU has executed well against Arizona's zone tonight, as Morningstar gets a nice pass and swishes a 10-foot jumper.
KU 22/UA 19 — 7:52 left in 1st half
Taylor gets a steal, and Markieff Morris shoots in a mid-range jumper on the other end.
Brady Morningstar follows with a rhythm three, and KU looks settled down after the timeout.
Alex Jacobsen brings some energy back to the gym, following a missed three with a slam off the rebound.
Aldrich makes a nice pass to the outside to an open Tyrel Reed, who drains the trey from the corner.
The Morris twins have their legs under them today, as Markieff got way up to put home a slam off a lob pass from Collins. Markieff has six points and Marcus has four in the earlygoing.
UA 13/KU 12 — 11:58 left in 1st half
After an offensive rebound, Horne puts in a two for Arizona.
Taylor forces a baseline floater that misses, and the Jayhawks have gone cold since starting 4-for-4.
KU 12/UA 11 — 13:03 left in 1st half
Jordan Hill makes a statement early, giving a pump-fake before putting in a one-handed slam past Cole Aldrich.
Markieff Morris responds immediately, getting his own dunk after getting a lob pass inside.
After an early foul by Cole Aldrich, KU coach Bill Self immediately went to his bench to bring in Marcus Morris for Aldrich.
Following an Arizona jumper, Marcus Morris picked up an easy layup in transition to tie the score.
Tyshawn Taylor hits a three from the side, and Markieff hits Marcus inside for KU's third easy basket.
Taylor hits a three from the other corner, and KU's lighting up the nets early.
Jamelle Horne follows with back-to-back jumpers — a two and a three — to put the Wildcats back in it. Hill adds an open jumper, and it's a 7-0 run for UA.
9:32 p.m.
So the Arizona band read newspapers while KU was being introduced. The only difference was, the band members didn't shake the papers. They really did stand there and read them.
The lights were all turned out for the introduction video — one that showed highlights of the 1997 national championship game. Might have brought back some sad postseason memories for KU fans.
9:22 p.m.
Some quick notes about Arizona before we get going:
• Arizona is 5-0 when it has fewer turnovers than its opponent. The Wildcats are 2-3 when they have more turnovers.
• Chase Budinger is 19-for-27 (70 percent) from three-point range in his last eight games.
• Arizona is 43-1 all-time in the Fiesta Bowl Classic.
• Arizona has made 50.4 percent of its field goals this year.
• The Wildcats, as a team, are making 46 percent of their three-point tries.
9:08 p.m.
The Jayhawks just came out in their blue warm-ups, and a pretty good cheer followed. Looks like KU fans have traveled well to this one.
Also of note, Arizona has a ball boy with Sherron Collins' old haircut. Not only does the boy have a mohawk, he also has some shape shaved in the left side of his head, though I can't decipher what it is. Looks to me like a cross between a tic-tac-toe board and a Christmas stocking.
9 p.m.
I guess I expected something particular from Tucson, Ariz.
If you go to Colorado, you expect mountains. If you go to Florida, you expect beaches.
I came to Tucson, and I expected, well, a desert.
Sure enough, it rained all day today. And pretty hard, too.
And that's my first impression of Arizona. That, and it being warm — I've worn short sleeves the last two days as the temperature has hovered in the 50s and 60s. That's good news for all those Jayhawk fans coming down to Arizona for the Insight Bowl in a week.
The people in Tucson just don't know how good they have it. We saw a couple of people huddled up, shivering outside the Waffle House this morning.
We just laughed. It didn't seem cold to us at all.
As far as the McKale Center goes, it has some touches that make it feel like Allen Fieldhouse. It has an older feel to it, and the tunnel surrounding the gym — with old-style white pipes hanging from the ceiling — gives it a retro feel. The individual seats here, though, make me appreciate the Fieldhouse's bench seating.
8:33 p.m.
Welcome back to The Newell Post Live, coming to you live from the McKale Center in Tucson, Ariz., where the Kansas Jayhawks are getting set to take on the Arizona Wildcats.
This is a tough game to predict. The young Jayhawks haven't played on the road yet, so it's difficult to know how they'll handle it. Also, the Wildcats have been inconsistent, with the last two games serving as perfect examples. On Dec. 14, they beat No. 4 Gonzaga, 69-64. Six days later, they lost to unranked UNLV by 15. Which team will show up tonight?
KU also doesn't have a perfect fit defensively to match up with 6-foot-7 Chase Budinger, so can Brady Morningstar do the job after limiting Temple's Dionte Christmas? How about Travis Releford? How about putting one of the Morris twins on him?
On offense, KU looks to have the advantage on the perimeter. Can Tyshawn Taylor and Sherron Collins take advantage? How will Cole Aldrich match up with 6-10 Jordan Hill (18.5 points per game, 11.9 rebounds per game) inside?
Should be a fun game to watch, as we'll learn quite a bit about both teams tonight.